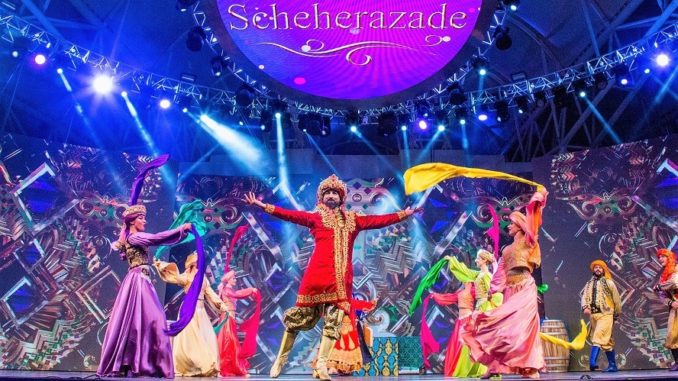 ---
Ornina Arts Events presents Global Village Scheherazade
The world's leading multicultural Festival Park and the region's first family destination for culture, shopping and entertainment now hosts three performances every night of Global Village Scheherazade, a grand scale musical production of the classic tale of intrigue and adventure, produced by Ornina Arts Events and directed by the legendary Nasser Ibrahim. It plays daily, except Fridays, until 3rd February 2019.
The plot of this timeless tale that encompasses a compendium of Arabian literature of the Middle Ages is based on Sultan Shahriar, who is convinced of the duplicity of women and vows to slay each of his wives after the first night. Queen Scheherazade saves her life by her presence of mind as she recounts a succession of tales, which never end before day-break, over a period of 1,001 nights.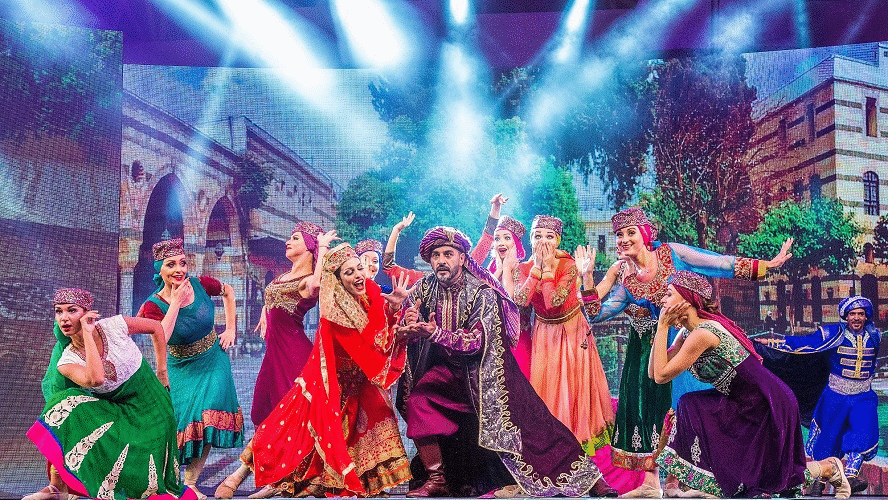 Overcome by curiosity, the monarch postpones her execution at every day break, and finally renounces his resolution. These ancient folk tales, also termed as Arabian Nights, have inspired poets, writers, artists and composers for centuries. Its Ornina Arts production transports audiences to a fairy tale world with forceful emotion and into an exhilarating journey.
The 30-minute Global Village Scheherazade musical is played out on the Main Stage with three half-hour shows that start at 6.25 pm, 8.25 pm and 10.25 pm every evening except on Fridays. More than 30 professional actors and dancers from Ornina Arts present the musical and bring out the beauty and joy of that special period in history, with creativity and innovative techniques so that it is relevant to audiences of all ages.
Its main characters, besides Queen Scheherazade are King Shahriar, the story teller and merchant Fouad and his wife Atimad, and their monkey. More than 200 costumes and up to 100 props and accessories are used while performing 11 scenes of the musical, creating one of the most colorful and joyful shows at Global Village.
---
View also
---
Bader Anwahi, Chief Executive Officer of Global Village, said:

Bader Anwahi – Global Village CEO

We are committed to delivering the best family entertainment experience to our guests throughout the season. The vast variety of shows that we are hosting on a daily basis is already proving extremely popular amongst our guests. Their experience with our entertainment and shows has scored an astonishing 9.2/10 in the guest happiness index.

Apart from our in-house productions of some of the finest and most popular bespoke shows through our entertainment team, we are also keen to host a collection of internationally renowned shows at Global Village for the first time in the MENA region, in line with our international growth as a brand.

Our entertainment portfolio in the current season has been set to satisfy every individual in the family and the millions of our guests, and entertainment begins as soon as they enter our park.
---
Commenting on the Global Village Scheherazade production, Nasser Ibrahim, Director at Ornina Arts Events, said:

Scheherazade features opulent background vistas and scenes that depict the costumes, dance and arts of the Arab Golden Ages.

This musical production took more than six months of preparation, from scenario writing, music composition, costumes and props design, and special video background preparation to choreography.

We rehearsed the full show daily for weeks and poured in our vast collective experience to present the beauty and joy through a magical performance of this legendary tale. Our aim is to create uniquely impressive moments that will touch the heart of the audience.
---
About Ornina Arts Events
Ornina Arts Events is one of the most successful and renowned Arab and international theater groups. It is well known as an ambassador of the East and its productions have distinguished themselves as the best presentations of historic dramas with an oriental magic throughout the world. It is a proven cultural and artistic institution that produces shows with advanced artistic techniques in its performances and exhibitions. It has also been awarded many prestigious awards and accolades.
---
About Global Village Season 23
Global Village has hosted a number of events and artistic performances this season including Malevo, the Argentinian dance and drums sensation and semi-finalist at America's Got Talent and Urban Crew, the hip-hop dance act from the Philippines and finalists at Asia's Got Talent. Daily performances by Ondekoza, a Japanese Taiko drumming group are in the pipeline. In addition to these cultural performances, its owned IP entertainment events include Globo The Musical, Boxcar Capers, Elemental and Bollywood Nights. All its events, shows and concerts are included in the entry ticket price of AED 15.
Global Village Season 23 welcomes guests and offer unique shopping experiences, cultural performances, entertainment events and surprises every day until 6th April 2018. Global Village is open from 4 pm to 12 am from Saturday to Wednesday and from 4 pm to 1 pm on Thursdays, Fridays and public holidays. On Mondays, it is dedicated to families and women only.
---