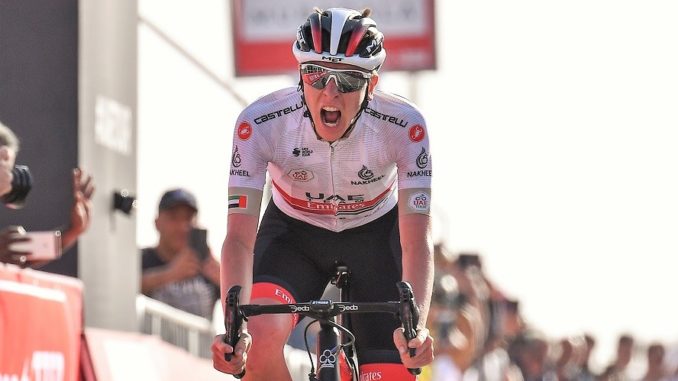 ---
2020 UAE Tour Stage 5 Winner: Tadej Pogacar
Slovenian sprinter Tadej Pogacar has won the 2020 UAE Tour Stage 5, the Al Ain Water Stage, ahead of Alexey Lutsenko and Adam Yates. Adam Yates, third on the line, retains the Red Jersey of leader of the General Classification.
STAGE RESULT
Tadej Pogacar, 162km in 3h48'53", average speed 42.467km/h
Alexey Lutsenko s.t.
Adam Yates s.t.
JERSEYS
The Red Jersey, sponsored by Emirates (General individual classification by time) – Adam Yates
The Green Jersey, sponsored by Mubadala (General individual classification by points) – Caleb Ewan
The White Jersey, sponsored by Nakheel (Best Young Rider born after 1 January 1995) – Tadej Pogacar
The Black Jersey, sponsored by Abu Dhabi Aviation (Intermediate Sprint Jersey Classification) – Veljko Stojnic
GENERAL CLASSIFICATIONAdam Yates
Tadej Pogacar at 1'01"
Alexey Lutsenko at 1'33"
---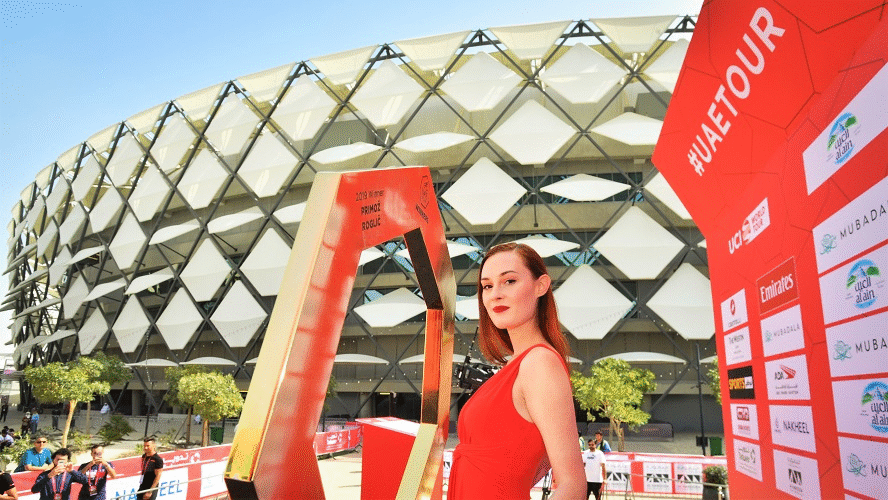 Speaking seconds after the stage finish, the winner Tadej Pogacar said:
It was an amazing finish. I started sprinting quite early. But we went really fast into the corner. I lost some speed and Lutsenko passed me on the left. But then we took the left corner together and it was full speed till the end. I threw the bike to the line to gain one centimeter. I'm very happy. This was the first big goal of the year for UAE Team Emirates. This is the home race for our team. It's unbelievable.
The Red Jersey leader of the General Classification Adam Yates said:
It's pretty much mission accomplished. I would have loved to win but in the end it is what it is. I fought the right guys. I still have the leader's jersey so it's a good day. It was the same climb as two days ago so it's not a surprise to have the same four guys at the front. Pogacar is impressive. He's young so we'll see him winning races again.
---
View also
---
About 2020 UAE Tour Stage 5 — Al Ain Water
(Al Ain – Green Mubazzar – Jebel Hafeet, 162 km)
The UAE Tour's mountain stage. A classic stage that featured regularly on the former Abu Dhabi Tour, it offers a familiar route around Al Ain taking in many of the symbolic places (Al Ain Zoo, Al Qattara, Al Hili, Al Ain Oasis) up to Green Mubazzarah where the final climb of Jebel Hafeet (10km) begins.
Last km
Final climb that winds its way through wide-ranging hairpin bends on a 3-lane roadway. Slopes mainly around 8-9% with a peak of 11% 3 km from the finish. Very short descents in the last km before the last ramp. Asphalt finish straight
For more information, please visit theuaetour.com
---