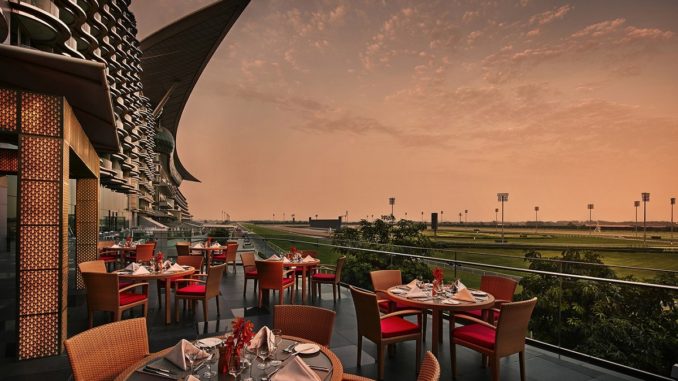 Celebrate the UAE National Day at The Meydan Hotel overlooking the majestic Meydan Racecourse with your beloved ones in style, and create some unforgettable moments among friends and family with the one-day only UAE National Day Brunch offering an authentic luxurious Arabic and international buffet, kids' dedicated activities and live entertainment.
---
UAE National Day at The Meydan Hotel – A true Emirati culinary experience
On Saturday, 2 December 2017, "Farriers" family friendly restaurant, especially decorated for this day, offers mouthwatering Arabic and International buffet with special Emirati dishes, carefully prepared by a team of professional Arabic chefs.
Here, guests will explore a true Emirati culinary experience with the variety of Emirati masterpieces whether "lamb machbous", "margouga", "prawn nashaf", "chicken biryani" and "lamb ouzi" or with sensational Emirati desserts featuring "khabeesa", "balaleet" and "aseeda".
[ngg_images source="galleries" container_ids="34″ display_type="photocrati-nextgen_basic_slideshow" gallery_width="700″ gallery_height="394″ cycle_effect="fade" cycle_interval="3″ show_thumbnail_link="0″ thumbnail_link_text="[Show thumbnails]" slug="uae-national-day-brunch-at-the-meydan-hotel" order_by="sortorder" order_direction="ASC" returns="included" maximum_entity_count="500″]
The special brunch of the UAE National Day at The Meydan Hotel celebrates the diversity of the UAE with a live Jazz band and an Arabic and International buffet with more than 12 live-cooking stations. These feature various BBQ stations, tandoor oven and live Arabic bread baking station together with tempura and Peking duck stations.
Further interactive cooking stations include authentic Saj and shawerma stations, Chinese live Wok and live sushi and sashimi counters together with pasta corner and a butcher's block carvery. And at the dedicated healthy juices station, chefs freshly squeeze a wide variety of fruits and vegetables.
All dessert enthusiasts are invited to enjoy a sweet symphony with the extensive dessert buffet offering sensational warm and cold masterpieces, from "mohalabeya", "date cake" and "Um Ali" to "crème brûlée", "tiramisu" and "red velvet cake".
---
Special National Day celebration for the kids too
Parents planning to treat their little ones to an exclusive experience for the UAE National Day at The Meydan Hotel are invited to enjoy a special celebration with fun activities including magician, face painting, drawing, arts and crafts, balloon twisting, family movies, PlayStation games and kids' favourite bouncy castle at the their dedicated and supervised kids' area.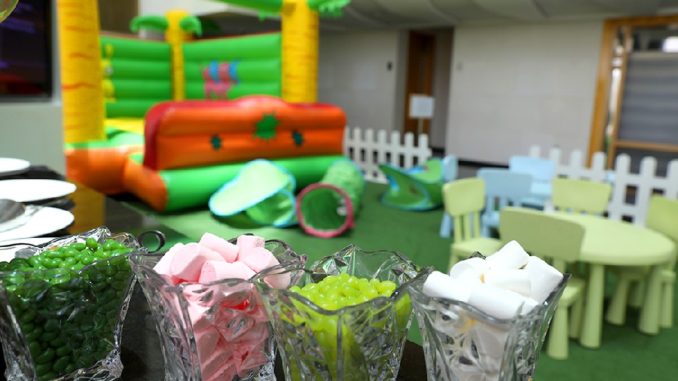 A special mini buffet for all youngsters is carefully prepared by our culinary team featuring the children preferred snacks and dessert including cotton candy, marshmallows and chocolate fountain.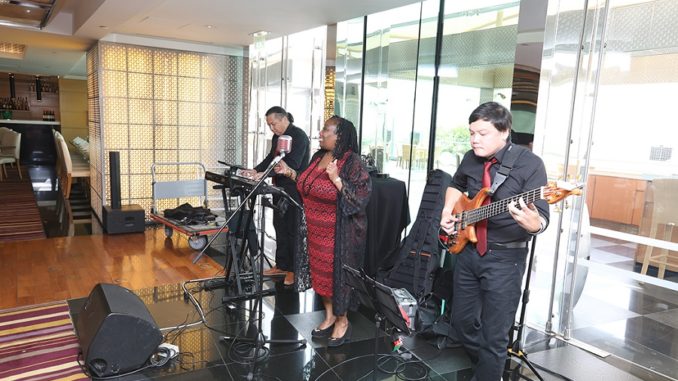 The UAE National Day at The Meydan Hotel with brunch at Farriers restaurant is the perfect family destination for the day, where children enjoy their time in the kids' dedicated area and families relax with friends while being entertained by the live European band overlooking Meydan Racecourse.
---
The UAE National Day at The Meydan Hotel with brunch buffet is available for one day
only on Saturday, 2 December 2017 from 12:30 pm – 4:00 pm
at Farriers restaurant located at on the lobby level.
It is priced at AED 220 per person (including food buffet and still water).
Children up to 4 years enjoy complimentary brunch,
children from 5 to 12 years old AED 110 per child
Advance bookings required, please contact +971 4 381 3111
or e-mail meydanrestaurantreservations@meydanhotels.com
---
For more information or media inquiries, please contact:
Nermin Abushnaf | Public Relations Manager | Meydan Hotels & Hospitality
D. +971 4 381 3242 | M. +971 56 545 8764
E. Nermin.Abushnaf@meydanhotels.com
www.themeydanhotel.com | www.meydan.ae
---
About The Meydan Hotel
Located only 12 minutes' drive from the Dubai Mall and the iconic Burj Khalifa and 15 minutes' drive from Dubai International Airport, the 5-star luxury The Meydan Hotel is the perfect travel destination for families and couples.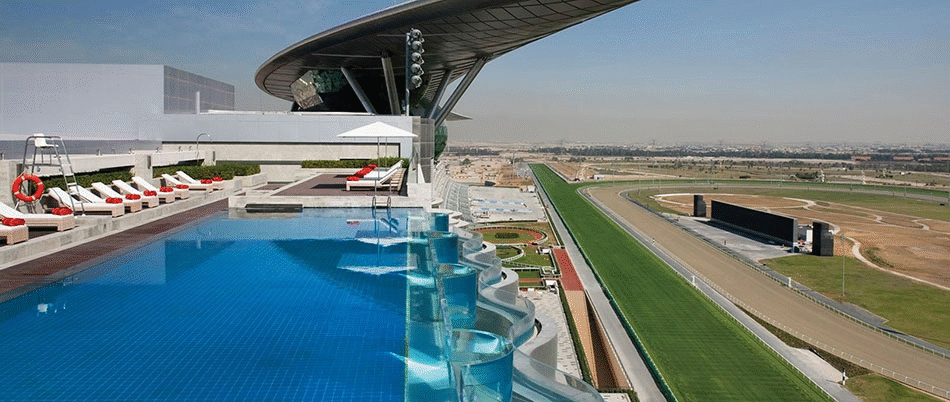 Overlooking the majestic Meydan Racecourse, this award-winning hotel offers spacious 284 rooms and suites from 62 m² to 352 m² with contemporary decor and Arabic touches. A choice of seven restaurants and lounges await the guests including "PRIME" fine dining steakhouse, "Shiba" Chinese and Japanese restaurant, international all-day dining "Farriers", all-day relaxing "Millennium Lounge", "Qube Sports Bar", "Shiba Bar" and "Equus Pool Bar".
The Meydan Hotel offers a wide range of indoor and outdoor recreational and sports facilities including "pay & play" fully floodlit nine-hole The Track, Golf course, exclusive behind-the-scene stable tours, four treatment rooms, outdoor rooftop temperature-controlled pool and a Tennis Academy.
The Meydan Hotel is a member of the Global Hotel Alliance and its Discovery loyalty program.
For more information, please visit www.themeydanhotel.com | #DiscoverMeydan
---