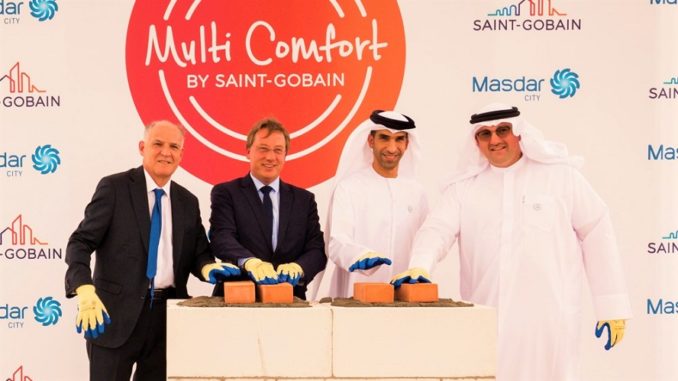 French multinational Saint-Gobain has broken ground on its Multi Comfort House at Masdar City, the first in the Middle East, in Abu Dhabi's flagship sustainable urban community.
HE Dr Thani bin Ahmed Al Zeyoudi, UAE Minister of Climate Change and Environment and HE Ludovic Pouille, French Ambassador to the UAE, Pierre-André de Chalendar, Chairman and Chief Executive Officer (CEO) of Saint-Gobain, and Mohamed Jameel Al Ramahi, CEO of Masdar (Abu Dhabi Future Energy Company), conducted the foundation stone laying ceremony.
---
The Multi Comfort House at Masdar City is one of 30 similar projects around the world. It is the first in the Middle East and a hot region anywhere in the world.
On completion at the end of next year, it will demonstrate Saint-Gobain's patented technology aimed at improving health and well-being by optimizing the human experience within the built environment.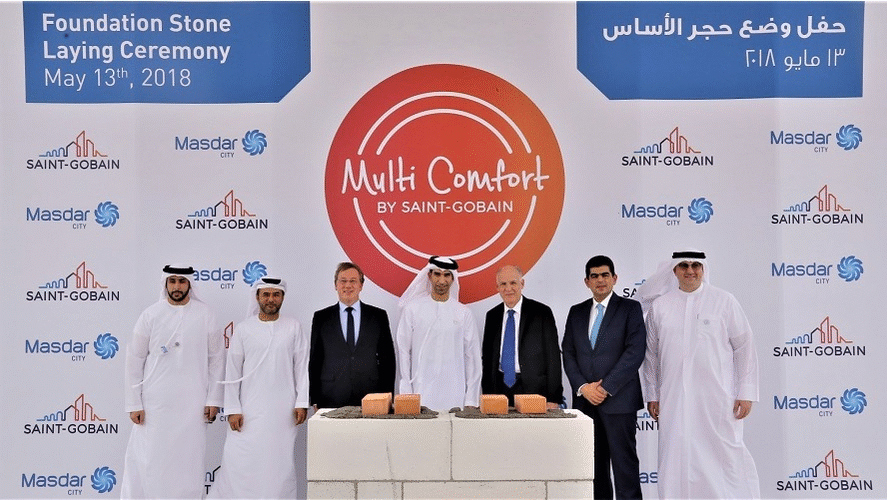 According to the Multi-Comfort philosophy, homes that are more comfortable make for happier and more productive people, and are more sustainable as a result.
A world leader in the habitat and construction sector, Saint-Gobain will further increase its UAE presence through the Multi Comfort House at Masdar City, as well as raise awareness of its innovative solutions addressing the challenges of sustainable construction, resource efficiency and climate change.
---
Pierre-André de Chalendar, Chairman and CEO of Saint-Gobain, one of the world's top 100 industrial groups said,
Pierre-André de Chalendar – Chairman & CEO of Saint-Gobain

"The UAE is a reference in construction development. It is building excellence, represented through Masdar City, is a role model for all, and Saint-Gobain is proud to be part of it."

He added: "Feeling good in a building is about having the perfect amount of light, the proper level of sound, the ideal temperature and a constant supply of fresh air. It is about design and technology, beauty and safety, efficiency and sustainability. This is precisely what Saint-Gobain can provide and demonstrate through the construction of this state-of-the-art Multi Comfort House at Masdar City."
A "greenprint" for sustainable urban development, Masdar City is considered by Saint-Gobain as the natural location to highlight its expertise in comfortable and sustainable home living.
---
"It is a privilege to receive the chairman and CEO of one of France's most prestigious companies at Masdar City, and to partner with Saint-Gobain in realizing the Multi Comfort House at Masdar City, its first in the Middle East," said Masdar CEO Mohamed Jameel Al Ramahi.

Mohamed Jameel Al Ramahi – CEO of Masdar

"Our towns and cities consume around two-thirds of the world's energy and account for more than 70 per cent of global carbon emissions. At the same time, the way our homes and offices are designed impacts our health, well-being and quality of life significantly."

"Saint-Gobain's Multi Comfort philosophy reinforces our own concept of sustainable urban development, which is based on the three pillars of economic, social and environmental sustainability," added Al Ramahi.

"It also complements the Eco-Villa prototype opened at Masdar City last year, conceived as a template for affordable and highly energy- and water-efficient residential villas in the UAE. We look forward to further collaboration with Saint-Gobain in commercial sustainable real estate as we continue on our journey to realize the world's most sustainable urban community here at Masdar City."
---
Saint-Gobain will build the 400-square-metre Multi Comfort House at Masdar City on a 2,200-square-metre site next to the Eco-Villa. On completion, it will serve as both a Multi Comfort "experience centre" and an office for Saint-Gobain employees, while also providing training in the company's products and solutions. It will be fully adapted to the UAE climate.
The German architecture and engineering consultancy Obermeyer will design and supervise construction of the project, expected to open by the end of 2019.
Saint-Gobain first developed the concept of Multi Comfort construction in 2004. It covers the four dimensions of light, air quality, temperature and acoustics within the home, as well as tertiary buildings such as shops, offices and public buildings.
---