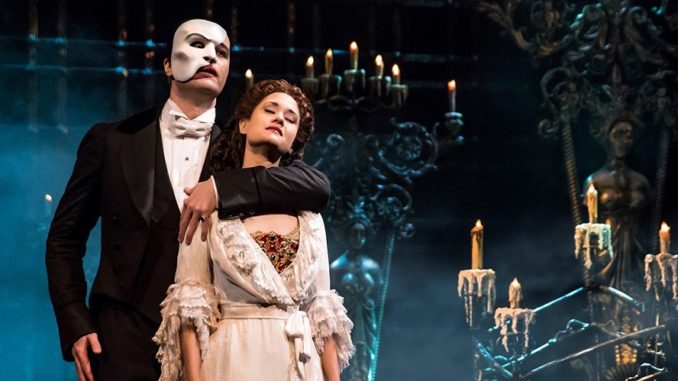 ---
Dubai Opera features The Phantom of the Opera as of 16 October 2019
The world's most spectacular musical, The Phantom of the Opera, announced it will come to Dubai Opera, and celebrated tickets going on-sale for its Middle Eastern debut by lighting up the world's tallest building, the Burj Khalifa. For just 120 seconds, fans got a taste of what is to come on 16th October 2019 with a bespoke audio-visual show that illuminated the Dubai sky.
The show's main characters including Christine and the Phantom himself were beamed onto the skyscraper which reaches 828m high, whilst scenes from the musical's haunting chorus were watched in awe by spectators.
From 16th October 2019 and for a limited run, theatre lovers will have the opportunity to witness the multi award-winning Broadway and West End phenomenon written and directed by musical theatre legend Andrew Lloyd Webber at the Dubai Opera.
The Phantom of the Opera is jointly presented by Broadway Entertainment Group and Dubai Opera. To purchase tickets visit www.dubaiopera.com
---
View also
---
About Dubai Opera
Dubai Opera is a truly unique venue and the city's first purpose built multi-format performing arts theatre, situated in the heart of Downtown Dubai. With an iconic dhow-shaped design rooted in Emirati heritage, Dubai Opera offers the ultimate flexibility of a proscenium arch theatre, an acoustic concert hall and a 2000m2 flat floor event space, and is the definitive destination for quality entertainment productions and performances. Dubai Opera's stage hosts an incredible array of world-class talent, with opera, ballet and classical music concerts and productions at the core, Dubai Opera also stages musical theatre, fashion shows, jazz, comedy, family shows and a full range of live entertainment.
---
About Broadway Entertainment Group FZ LLC
Broadway Entertainment Group is the world's first theatrical distribution company to consolidate an international circuit and bring top quality entertainment into the markets of the Europe, United Kingdom, Middle East, North America, South and Central Asia. Chief Executive Officer Liz Koops has produced shows internationally for over 20 years, and toured productions in 37 countries.
Broadway Entertainment Group is currently producing Dein Perry's Tap Dogs on its 2018/2019 international tour of South Africa, United Kingdom, Middle East and in the USA. Forthcoming international presentations include Thriller Live, The Wizard of Oz, Piaf! Le Spectacle, Illusionists and The Spectaculars.
Broadway Entertainment Group has previously toured Andrew Lloyd Webbers CATS and Evita, Disney's Beauty and the Beast, Kinky Boots, Dreamworks' SHREK the musical, Annie, Matthew Bourne's Swan Lake. Previous productions produced by Liz Koops include: Priscilla Queen of the Desert, Mathew Bourne's Swan Lake, Fosse, Chicago – The Musical, Miss Saigon, Gumboots, Slava's Snow Show, Bounce, Lady Salsa, Circus Oz, Lano and Woodley, Mum's the Word, Rudy Coby, Shaolin Kung Fu Warriors, Sister Act, and Jerry Seinfeld World Tour.
Broadway Entertainment Group FZ LLC operates from Dubai, London and Australia
---