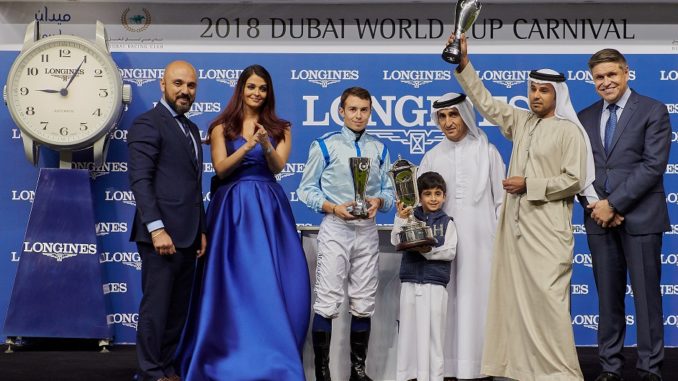 ---
---

Renowned Swiss watchmaker Longines presented the first set of Dubai World Cup Carnival races, featuring a total of seven races, at the Meydan Racecourse on Thursday, 11th of January, 2018. The inaugural event of this year's racing season was graced by Longines Ambassador of Elegance and illustrious Indian film actress, Aishwarya Rai Bachchan, who also paid a visit to the Longines flagship boutique at the Dubai Mall during her stay in the city.
[ngg_images source="galleries" container_ids="60″ display_type="photocrati-nextgen_basic_slideshow" gallery_width="700″ gallery_height="467″ cycle_effect="fade" cycle_interval="3″ show_thumbnail_link="0″ thumbnail_link_text="[Show thumbnails]" slug="dubai-world-cup-carnival-2018″ order_by="sortorder" order_direction="ASC" returns="included" maximum_entity_count="500″]
---
As Official Timekeeper and pillar partner of Meydan, Longines kicked off the exciting Dubai World Cup Carnival 2018 that leads up to one of the foremost equestrian events, the Dubai World Cup, dubbed the World's Richest Race which will be held on March 31st, 2018. Longines Vice President and Head of International Marketing, Juan-Carlos Capelli was also present at the event.
The Official Watch of the event was a timepiece from The Longines Master Collection, featuring a sunray blue dial. This fashionable chromatic variation is perfectly in line with the classic and understated spirit of this collection and is complimented by a blue alligator strap.
---
Longines and equestrian sports
Longines' commitment to equestrian sports dates back to more than a century, when the brand produced a chronograph engraved with a jockey and his mount. Today, Longines is an active partner of flat racing, show jumping, eventing, endurance, dressage and driving.
In all these disciplines, Longines is the Official Partner, the Official Timekeeper and the Official Watch of international institutions, events, races and competitions. The brand also shares the same values as equestrian sports: Elegance, Performance and Tradition; thus further strengthening its close bounds with these sports.
---
About Longines
Longines has been based at Saint-Imier in Switzerland since 1832. Its watch-making expertise reflects a strong devotion to tradition, elegance and performance. Longines has generations of experience as official timekeeper of world championships and as partner of international sports federation.
Known for the elegance of its timepieces, Longines is a member of Swatch Group Ltd, the world's leading manufacturer of horological products. With the winged hourglass as its emblem, the brand has outlets in over 150 countries.
For further information please visit www.longines.com
---