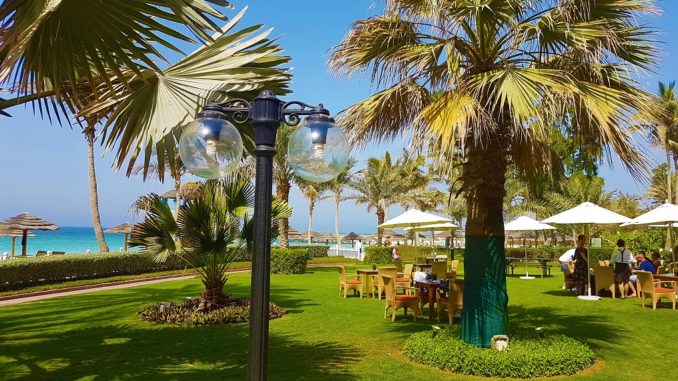 Looking for green nature, beach and relaxation with delicious cuisine? Friday Garden Brunch at Ajman Hotel is your choice!
Located at the far end of Ajman's corniche, only 35 minutes from Dubai, on the shores of the Arabian Sea, Ajman Hotel, a haven of peace and dreams, offers you Friday Garden Brunch. A brunch for royalty, served every Friday between 1pm and 4pm, on terrace or in the hotel's garden; between the swimming pool and the beach with its fine white sand, in the shade of umbrellas and palm trees, under the curious gaze of friendly ravens which are also eager to taste the exceptional buffet!
---
Barbecue and Live cooking stations
For your taste buds there is a rich variety proposed by the terrace: Culinary counters with various specialities; Indian cuisine (biryani rice…), Italian cuisine (fresh pasta cooked to your taste) and Middle Eastern cuisine (Saj, manaqeesh of cheese, zaatar or meat and shawarma) served with an assortment of summer fresh and colorful vegetables.
There is also a live cooking station for the barbecue with a fine selection of meat and poultry (chicken, beef, lamb chops…), marinated and seasoned by the skilled and professional culinary team, as well as various fresh fish (salmon, tuna…) and shrimps, all cooked to perfection under the chef's watchful and vigilant eye.
---
Salad buffet and appetizers
Inside, a wider selection! See for yourself:
A rich buffet with a very subtle choice of savoury salads (duck and fennel salad is a treat!) and sophisticated appetizers (caviar, salmon tartare, duck foie gras, hummus, stuffed vine leaves…) and a cheese corner to enjoy with a selection of varied breads and a good glass of wine or more…
The kids' corner with a perfect selection of chicken nuggets, vegetable rolls, dairy products, fruit and cupcakes; wide enough to satisfy all the tastes (and whims) of children!

---
Fruits and desserts
Finally, Micky's counter, who cuts and mixes fruit for salads packed with vitamins. For the pleasure of the eyes, he also carves roses in watermelons and makes little ducks with an orange, grapefruit and carrots! A real touch of creativity and source of admiration for kids and grown-ups alike.
This exciting culinary journey would not be complete without pancakes and a highly tempting choice of desserts: fruit tarts, sweet bites, glasses of fruit mousse, choux, cakes… as delightfully designed and artistically presented as they are delicious. There really is something for every taste and every desire; to be enjoyed with hot coffee or tea.
The service is professional, cordial and very attentive with a very warm and courteous welcome. A cheering animator passes among the guests and proposes to the children fun activities such as face painting and balloons that she folds into the shape of a dog, sword, flowers and wreaths…
---
As the Brunch comes to an end, it does not!
As the day winds down, after the Friday Garden Brunch, you can enjoy the waves of the sea in fresh and invigorating water, go looking for shellfish and starfish on the beach, laze in front of a magnificent view of the sunset while enjoying its last rays, or relax in the large heated swimming pool.
Little pleasures to savour at the rhythm of the waves and the melody of singing birds and to share with family or friends, to escape into a different world, for a day, or more if affinity…
Friday Beach & Garden Brunch

Brunch served
From 1pm till 4pm
Venue
Terrace or garden
Price (VAT included)*
AED 185 | Brunch with soft drinks
AED 210 | Brunch with selected house beverages
AED 250 | Brunch with soft drinks and beach / pool access
AED 290 | Brunch with selected house beverages and beach / pool access
Bookings
fboffice@hotelajman.com | +971 6 714 5582
* Terms & Conditions Apply
---