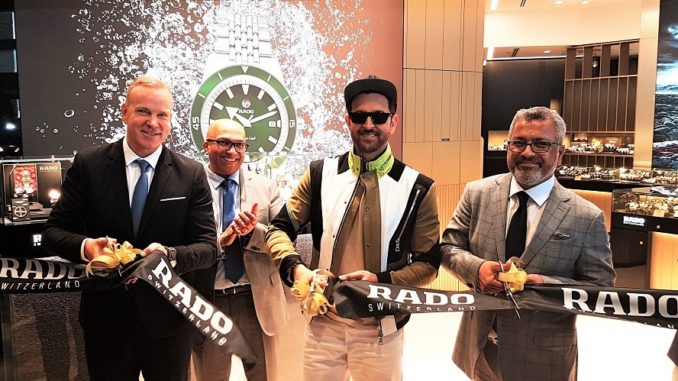 ---
Rado Dubai Mall boutique inaugurated by Hrithik Roshan
Rado, the globally recognized Swiss watch brand, opened its new boutique at The Dubai Mall along with their brand ambassador and Indian movie star, Hrithik Roshan, on the evening of Thursday, October 10th.
The new boutique is one more addition to the line-up of Rado's presence in the GCC region for watch enthusiasts and will include their latest product offerings, the moment they are launched in the region.
---
The opening event of the boutique also showcased the Rado HyperChrome Automatic Chronograph, which was worn by Hrithik Roshan in his new movie 'War'.
The sleek and gleaming black, high-tech ceramic was seen as a perfect fit to the sophisticated masculine personality of the Indian movie star, especially in his action-packed and fast paced role of an Indian agent in the movie.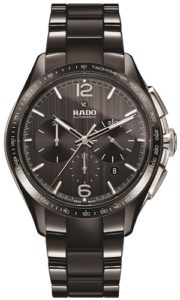 The case and bracelet in high-tech ceramic is supremely scratch-resistant and comfortable to wear – a must for discerning action heroes on the go and with Hrithik; Rado has found an ambassador who shares their dedication to innovation and the ability to constantly push boundaries.
Hrithik has a winning persona that exudes confidence. Rado HyperChrome Automatic Chronograph is a cutting edge, stunning watch that fits completely with his character in our film and we found this synergy perfect, added movie director, Siddharth Anand.
With the Rado HyperChrome Automatic Chronograph, Hrithik has found a watch that can keep pace with his incredible, action-packed life – both on and off screen.
The new collections of Rado are also available at all Rivoli outlets across the UAE, who are the distributors and partner of Rado in the Middle East.
---
View also
---
About Rado
Rado is known as the Master of Materials for the way it has revolutionized traditional watchmaking, leading the industry by introducing high-tech ceramic, ultra-light high-tech ceramic, colorful high-tech ceramic and Ceramos to its design-led collections.
An award-winning designer with numerous prestigious international prizes to its name, and considered the most forward-thinking design player in the watch industry today, Rado has always been a pioneer and leader, setting the standard and raising the bar.
For more information, please visit rado.com
---
About Yash Raj Films
Yash Raj Films [YRF] is one of India's oldest and most respected story-tellers. A decade old film & entertainment company with a fully integrated presence across the entire value chain covering everything from production, worldwide distribution, marketing, home entertainment and brand partnerships to design, licensing, consumer products, interactive media and talent management. It has offices across India and in US, UK & UAE differentiating it from all studios in the country.
For more information, please visit yashrajfilms.com
---