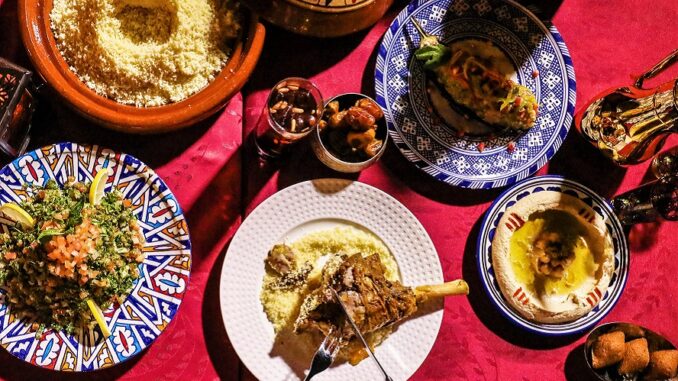 ---
Rediscover Ramadan dining with More Cravings by Marriott Bonvoy
More Cravings by Marriott Bonvoy is a dedicated platform that brings together the UAE's best Iftar and Suhour offers available across all Marriott International properties, so choosing where to eat during Ramadan just got a whole lot easier. The website is the ultimate deals directory, so gourmand guests have new places and flavors to explore throughout the Holy Month.
Enriching Ramadan dining experiences with more than just flavors, More Cravings by Marriott Bonvoy encourages people to turn special moments into memories over meals with those near and dear. Whether it's a traditional Arabic-style Iftar buffet or Suhour with a twist, foodies can rejoice in this absolute dream come true at just the click of a button. Morecravings.com showcases a mouth-watering variety of culinary experiences, be it cosy eateries and even fine dining outlets, explore the options and make reservations at just the click of a button.
---
The family-style service at Feast Restaurant at Sheraton Grand Hotel Dubai makes it the perfect choice for families, groups and business meetings to gather, mingle and taste an abundance of flavors. The open kitchen features a flavorful explosion of authentic tastes from the West, Middle East, India, China and South East Asia, all personalized for guests. Make sure you save room for dessert, as Feast Restaurant also offers an abundance of sweet endings.
---
La Farine Café & Bakery at JW Marriott Marquis Hotel Dubai prepares an assortment of Ramadan favorites, from hot and cold mezze, to kebabs and much more that can be enjoyed in the comfort of your home and shared with family and friends.
Those looking for a more traditional Iftar experience will enjoy the live cooking stations and delicious dishes prepared by the talented chefs at the Sheraton Sharjah Beach Resort & Spa. The hotel's international dining outlet, Gusti, creates a warm and welcoming ambience that complements the intimate iftar setting for a memorable meal with loved ones.
Gourmands in the capital can head to W Abu Dhabi – Yas Island's quirky and vibrant restaurant, Garage. Diners can choose from a wide selection of mouth-watering delicacies from its Iftar menu, including a mix of comfort food and fine flavors.
---
In addition to unbeatable offers, guests can also earn Marriott Bonvoy points when dining at participating restaurants during Ramadan. Members will be rewarded 10 points for every eligible USD 1 (AED 3.6) spent, which can be redeemed for free nights, flights, culinary experiences in the UAE and more.
Keeping health and safety at the heart of operations, all Marriott International properties practice ongoing efforts to safeguard public health through enhanced cleaning and safety measures to ensure that hotels remain a comfortable and safe environment for guests and diners.
A convenient way to navigate dining out this Ramadan, all you have to do is select, book, and let More Cravings by Marriott Bonvoy take care of the rest.
---