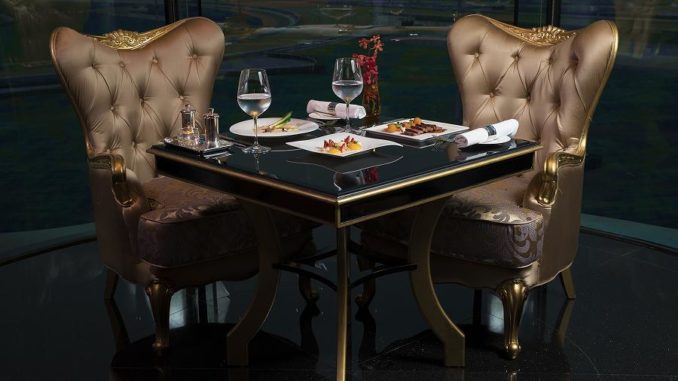 PRIME Date Night, the perfect luxury culinary escape
This month onward, we invite all Dubai luxury enthusiasts, who are planning the perfect date night with their partners, to explore PRIME Date Night. Most of all, it is a lavish culinary experience at PRIME fine-dining steakhouse at The Meydan Hotel. Furthermore, the chic ambiance combines with exquisite culinary creations and outstanding views of majestic Meydan Racecourse.
PRIME Date Night takes your breath away
PRIME takes the guests' breath away with its extravagant over-sized chairs, its luxurious furnishings, high ceilings and stunning chandeliers. Therefore, it is considered as one of Dubai's outstanding fine-dining steakhouses. Most noteworthy, it is famous for its finest cuts of premium beef from around the world.
---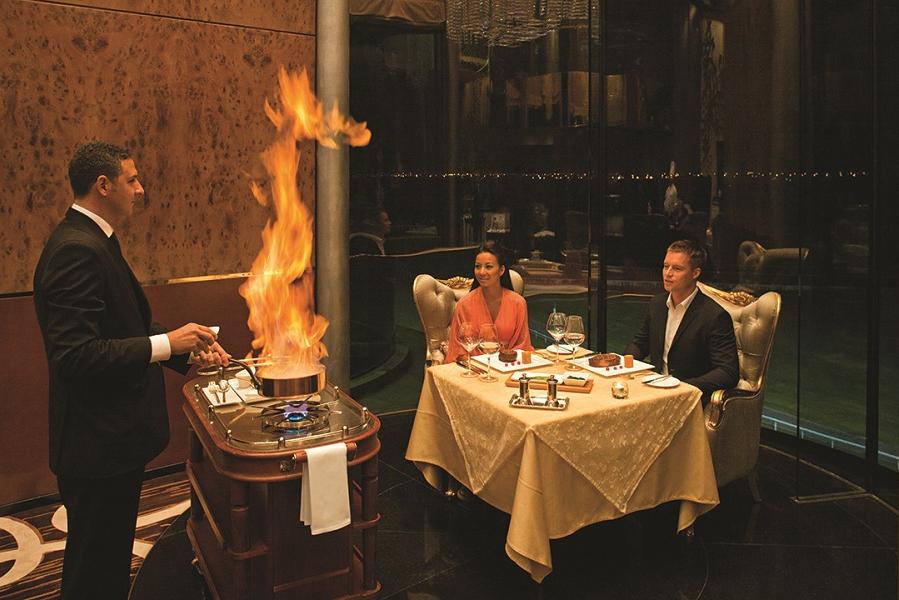 A mouthwatering PRIME Date Night menu by Chef Raphael Raschke
With his 10-years international experience in UK, Germany, Australia and the UAE, Chef Raphael Raschke has carefully created the perfect PRIME Date Night menu. Thus, he presents his culinary specialties to every couple in a glamorous intimate ambiance.
PRIME Date Night Set Menu presents a choice of three mouthwatering starters followed by Chef Raschke's signature steak. First of all he expertly grills the meat to the preference of every guest. Then, he serves it together with two sophisticated dessert masterpieces for every couple to choose from. Finally, a complimentary bottle of house beverage accompanies the meal to complete a fabulous culinary experience.
PRIME Date Night Set Menu is available daily at AED 750 per couple. In addition, it includes a bottle of house beverage and set menu from 7:00 pm – 11:30 pm at PRIME fine-dining steakhouse. The restaurant is located on the 5th floor.
---
Offer is valid for a minimum of 2 people.
Offer is not applicable with any other promotion or discount. Advance bookings required.
Please contact +971 4 381 3111
E. meydanrestaurantreservations@meydanhotels.com
www.meydanhotels.com/PrimeDinner
---
For more information or media inquiries, please contact:
Nermin Abushnaf | Public Relations Manager | Meydan Hotels & Hospitality
D. +971 4 381 3242 | M. +971 56 545 8764
E. Nermin.Abushnaf@meydanhotels.com
www.themeydanhotel.com
---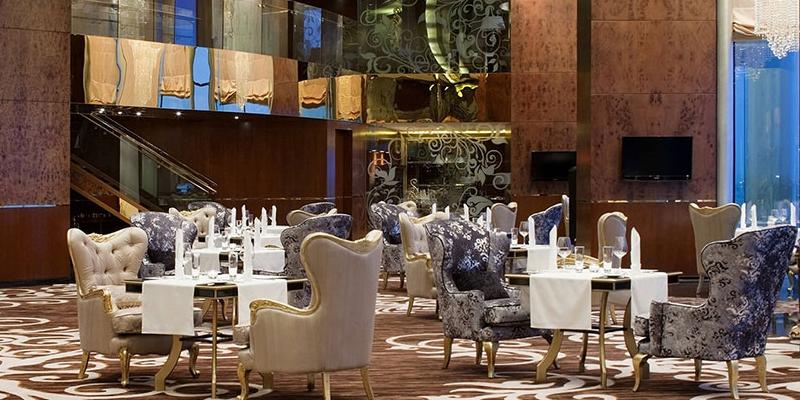 About PRIME fine-dining Steakhouse
One of Dubai's outstanding fine-dining steakhouses, PRIME is famous for its finest cuts of premium beef from around the world. While the steakhouse is located amidst elegantly chic surroundings highlighted by luxurious furnishings, it also has high ceilings with stunning chandeliers and plush carpet. Therefore, PRIME presents the perfect lavish dining experience with tunes of the live pianist and views of the majestic Meydan Racecourse.
This outstanding steakhouse offers an extensive menu with selected signature dishes. Hence, the menu includes seafood and poultry complemented by exquisite side dishes, appetizers and carefully prepared desserts. Guests are welcome to select their meat cut favorite cooking temperature from the menu. Therefore, they may choose from seared, blue rare, very rare, rare, medium rare, medium, medium well done, well done or overcooked.
PRIME offers an exquisite dining experience to its guests, where we cook the Flambé at the table. Additionally, PRIME presents a wide variety of sauces as well as a range of mouthwatering desserts. Also, the menu offers various culinary creations for vegetarians, Diabetic and special gluten free items. These are available upon the request of the guest.
At the dedicated 'Cigar Lounge' nestled at PRIME, all cigar enthusiasts can relax and enjoy a special collection of premium cigars and Cigar Sommelier's recommendation for the best cigar and whisky pairing, while enjoying the views of Dubai's Meydan Racecourse.
PRIME fine-dining Steakhouse and Cigar Lounge are open every day for dinner
from 7:00pm–11:30pm – located on 5th floor
---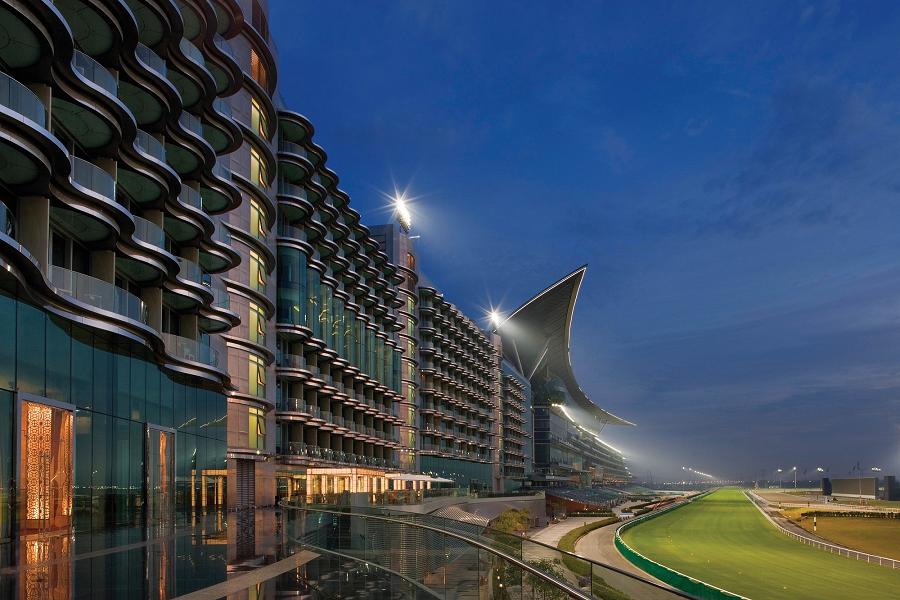 About The Meydan Hotel
Since it is located only a 12-min drive from the Dubai Mall and the iconic Burj Khalifa and 15-min drive from Dubai International Airport, the 5-star luxury The Meydan Hotel is the perfect travel destination for families and couples.
While overlooking the majestic Meydan Racecourse, this award-winning hotel offers spacious 284 rooms and suites from 62 m² to 352 m² with contemporary decor and Arabic touches. Additionally, a choice of seven restaurants and lounges awaits the guests. These include "PRIME" fine dining steakhouse, "Shiba" Chinese and Japanese restaurant, international all-day dining "Farriers", all-day relaxing "Millennium Lounge", "Qube Sports Bar", "Shiba Bar" and "Equus Pool Bar".
Finally, The Meydan Hotel offers a wide range of indoor and outdoor recreational and sports facilities. These include "pay & play" fully floodlit nine-hole The Track, Golf course, exclusive behind-the-scene stable tours, four treatment rooms, outdoor rooftop temperature-controlled pool and a Tennis Academy.
The Meydan Hotel is a member of the Global Hotel Alliance and its Discovery loyalty program.
For more information, please visit www.themeydanhotel.com | #DiscoverMeydan