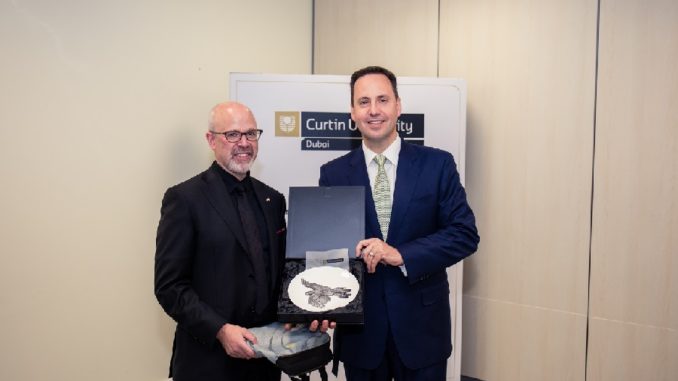 ---

The leading global university from Perth, Western Australia, Curtin University launches Dubai Academic programs with the commencement of its first undergraduate and postgraduate curricula. The University's Dubai campus also welcomed the inaugural cohort of students.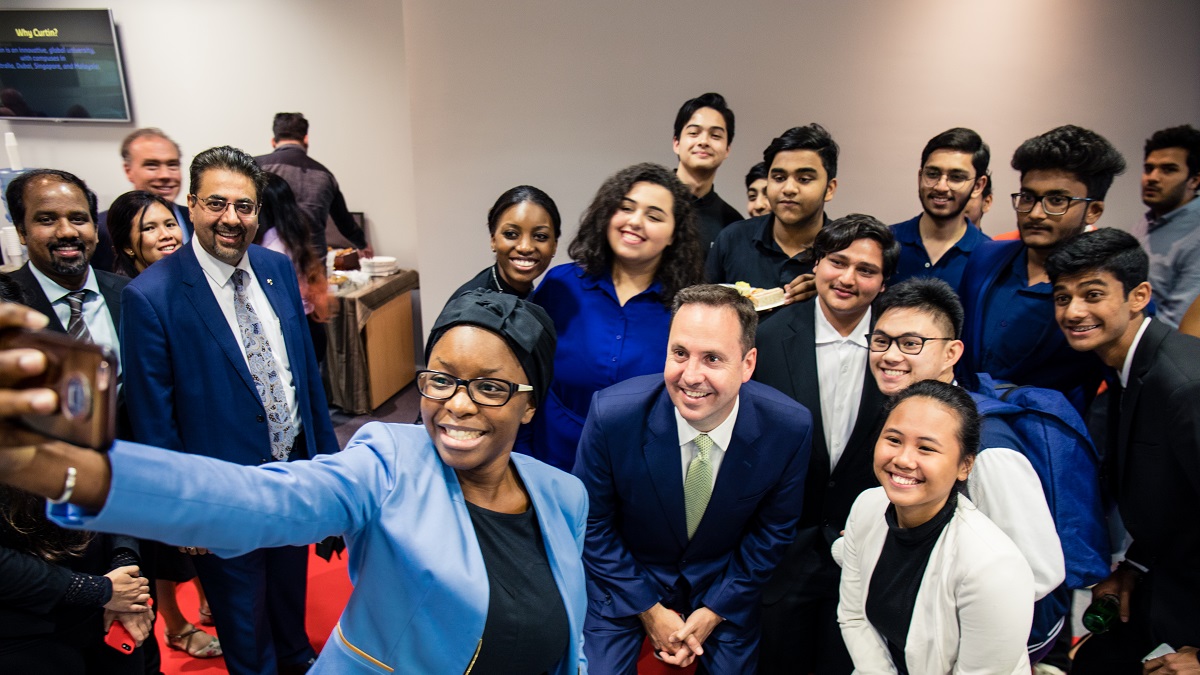 Australian Minister for Trade, Tourism and Investment, Steven Ciobo MP was present at the event along with dignitaries from Dubai International Academic City, the Western Australian Trade Office and Austrade.
---
Speaking at the event, Australian Minister for Trade, Tourism and Investment, Steven Ciobo MP said, "The commencement of a Curtin campus in Dubai is an exciting development for Australia in the UAE and wider region. Curtin's presence in Dubai further strengthens Australia's important education ties in the Middle East."
---
Curtin University's Deputy Vice-Chancellor International and Acting Pro Vice-Chancellor of Curtin Dubai, Professor Seth Kunin, said, "We are delighted to commemorate the beginning of a number of new undergraduate and post-graduate programs in 2018 and welcome the new batch of students to an exciting academic year."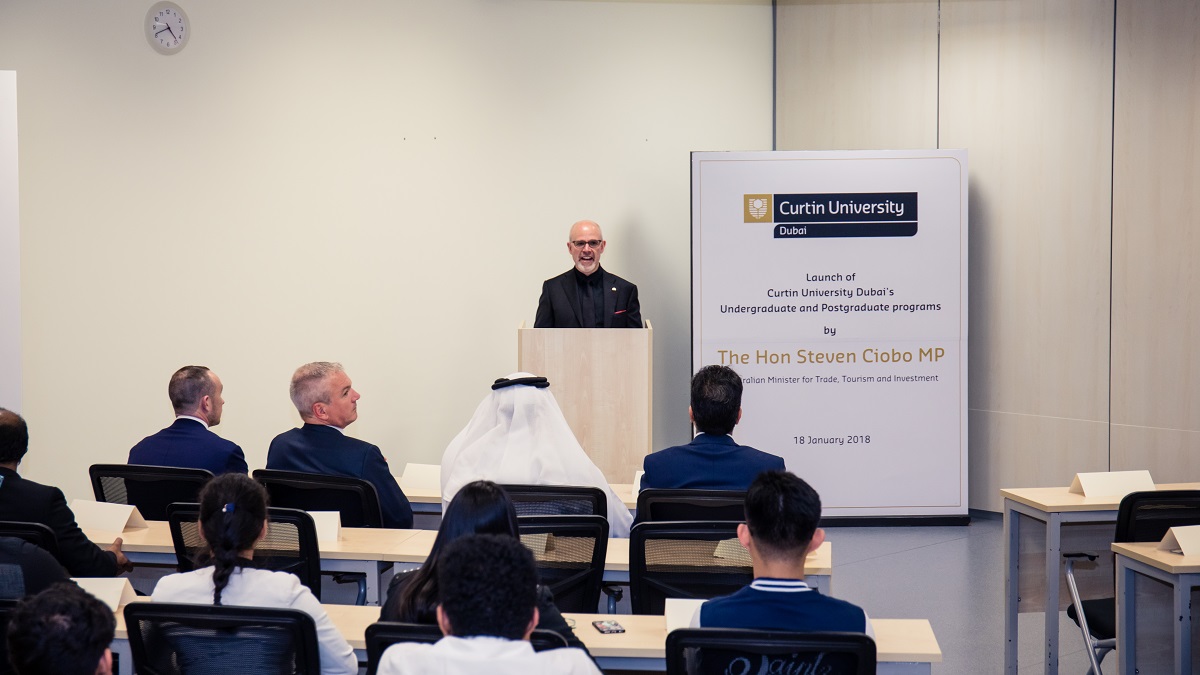 "Curtin University is highly regarded for its programs in a variety of fields including science and engineering, business, humanities and communications – and we are thrilled that students in Dubai will have access to world class education through this campus."
---
Curtin University has a track record of attracting outstanding students, including Sandile Keitumetse Nkala, who was admitted to Curtin Dubai with excellent grades in her IGCSEs. She is currently enrolled in the Curtin Dubai Foundation Program in Business, and plans to enrol into Curtin's prestigious AACSB Accredited School of Business' Bachelor of Commerce program.
She said, "Curtin University is a globally recognised university, and I managed to qualify to get an academic scholarship at this prestigious university and this is the beginning of a remarkable journey for me."
[ngg_images source="galleries" container_ids="61″ display_type="photocrati-nextgen_basic_slideshow" gallery_width="700″ gallery_height="394″ cycle_effect="fade" cycle_interval="3″ show_thumbnail_link="0″ thumbnail_link_text="[Show thumbnails]" slug="curtin-university-launches-dubai-academic-programs" order_by="sortorder" order_direction="ASC" returns="included" maximum_entity_count="500″]Studying at Curtin University is such a fantastic experience, that two generations of the Jeyakumar family have an association with the institution. Mr. Jeyakumar completed his Graduate Diploma in Secondary Teaching from Curtin University in Perth Western Australia. Today, his twin sons, Kelvin and Melvin, have decided to follow in his footsteps and have joined Curtin University in Dubai. Kelvin has enrolled in the Bachelor of Science program in Information Technology and Melvin has enrolled in the four year Bachelor of Engineering Honours program in Civil and Construction Engineering.
Mr. Jeyakumar said, "I completed my Graduate Diploma in Secondary Teaching at Curtin University through the Bentley campus. It was a fantastic experience for me as an International student – the lecturers were very friendly and supportive and the knowledge I gained at Curtin has helped shape my career."
He added: "Given my positive experience at Curtin University, it was without any hesitation that I enrolled my twin boys to start their tertiary studies at the Dubai campus. I am proud to see the success of Curtin University worldwide and it gives me immense pride to know that my children and I are part of the Curtin Family."
---

While Curtin University launches Dubai Academic programs, it has also climbed to the world's top 200 universities in the prestigious Academic Ranking of World Universities (ARWU), estimated to be ranked 180th in the world and 9th in Australia. The University is globally known for its high-impact research and strong industry partnerships.
---
About Curtin University
Curtin University is Western Australia's largest university, with more than 58,000 students. Of these, over 15,000 are international students. The University's main campus is in Bentley in Perth, Western Australia. Curtin has other campuses across Western Australia, Malaysia, Singapore, and now Dubai. Curtin also has a presence at a number of other global locations.
Curtin celebrated '50 Years of Innovation' in 2017 – the combined history of the Western Australian Institute of Technology (WAIT), which opened its doors to students in 1967 and Curtin University, which opened in 1987.

Today, Curtin is estimated to be ranked 180th and in the top one per cent of universities worldwide, and 9th in Australia in the highly regarded Academic Ranking of World Universities 2017 (ARWU).
The University has built a reputation around innovation and an entrepreneurial spirit, being at the forefront of many high-profile research projects in astronomy, biosciences, economics, mining, and information technology. It is also recognised globally for its strong connections with some of the world's largest companies, including Woodside, Chevron and Cisco, and for its commitment to preparing students for jobs of the future.
For further information visit curtin.edu.au
---