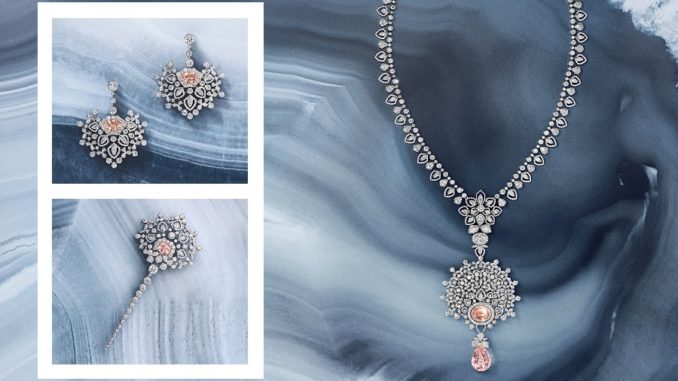 ---
Les Mondes de Chaumet
From yesterday to today, Chaumet has been inspired by creations from far-off lands. The best of the world's civilisations have fuelled its imagination, giving rise to the making, in the centre of Paris, on place Vendôme, of jewellery pieces that evoke myriad fertile journeys through distant lands.
The High Jewellery collection Les Mondes de Chaumet is built around three precious moments – January, June, July – in an alliance of the virtuosity of the Maison with the dreams of far-away horizons. In Paris, birthplace of a unique culture nourished by influences from every latitude, Chaumet reinvents its past to create the adornments inspired by today's many worlds.
---
Promenades Impériales
The first chapter in Les Mondes de Chaumet is entitled Promenades Impériales, a series which promises to export us to places that bear special significance for the Parisian Maison.
In homage to Russia, where Joseph Chaumet travelled in 1914 for the wedding of Princess Irina, niece of Tsar Nicholas II, Promenades Impériales captures the beauty of the Siberian winter. The infinite vastness of the snow-covered steppe meets the infinite smallness of ice crystals. All is still, except for the sky, whose colours illuminate the snow and the bark of white birches.
[ngg_images source="galleries" container_ids="73″ display_type="photocrati-nextgen_basic_slideshow" gallery_width="700″ gallery_height="394″ cycle_effect="fade" cycle_interval="3″ show_thumbnail_link="0″ thumbnail_link_text="[Show thumbnails]" slug="promenades-imperiales" order_by="sortorder" order_direction="ASC" returns="included" maximum_entity_count="500″]Lace-like diamond motifs, evoking snowflakes or Russian decorative patterns, are lit up by the limpid blue of Ceylon sapphires, echoing the pure sharp azure of the day, or by the orangey pink of the Padparadscha sapphires recalling dawn or dusk.
The Promenades Impériales set offers a transformable necklace, brooches, earrings, rings and a supple bracelet to sweep us off our feet and transport us to the faraway land of Doctor Zhivago.
---
About Chaumet
The history of Chaumet, the first Parisian jeweller to open in Place Vendôme, began in 1780. For more than two centuries, the Maison has continued to embody creativity and excellence.
Official jeweller of Emperor Napoleon I, the founder of Chaumet, Marie-Etienne Nitot, created for the Empress Josephine then Marie-Louise, diadems and official jewellery, as well as fashion and sentimental jewellery.
A testament to the creation and excellence that characterize the company, the know-how of the workshop managers has been passed on from generation to generation. Joseph Chaumet, workshop manager and undisputed master of the Belle Epoque, gave his name to the House, whose private mansion, at number 12 in Place Vendôme, brings together the haute joaillerie workshop and the creation studio. In this prestigious location, Chaumet creates precious jewellery and watch collections that reflect Parisian elegance and excellence.
Responsible jeweller responsible for ethical conduct, Chaumet has been a member of the Responsible Jewellery Council since 2005 and certified since 2011.
---