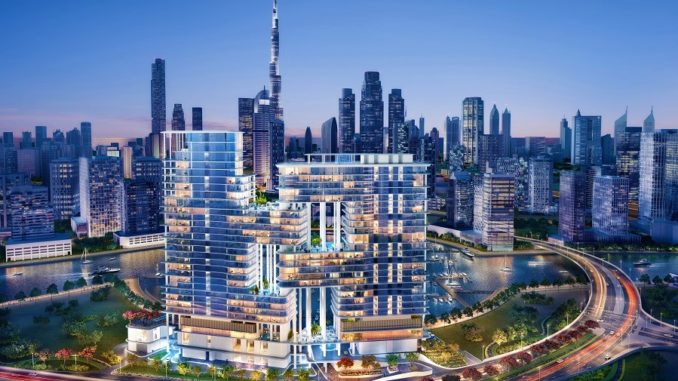 Omniyat, the Dubai-based high-end developer, held a black tie gala event on March 8th evening to unveil the first images from its Dorchester Collection project.
In a glitzy evening under The Gate building in DIFC, Dubai, Omniyat celebrated its new partnership with the luxury hospitality brand and revealed renderings of how the five-star hotel and luxury apartments — named Private Residences, managed by Dorchester Collection— will look.
Omniyat also used the evening to announce that the project was designed by award-winning architectural firm Foster + Partners.
The collaboration between the Dubai-based high-end developer and the luxury hospitality brand is a long-term agreement that will put Dubai on the same globally important footing for Dorchester Collection as its established hotels in locations such as London, Rome, Beverly Hills and Paris. The project is a 5-star hotel and luxury residences managed by Dorchester Collection, at Marasi on Dubai Canal.
[ngg_images source="galleries" container_ids="86″ display_type="photocrati-nextgen_basic_slideshow" gallery_width="700″ gallery_height="467″ cycle_effect="fade" cycle_interval="3″ show_thumbnail_link="0″ thumbnail_link_text="[Show thumbnails]" slug="dorchester-collection" order_by="sortorder" order_direction="ASC" returns="included" maximum_entity_count="500″]
Thursday's event, titled "City Lines Redefined", attracted over 1,000 of the region's leading names in real estate, finance and lifestyle. The evening included an exclusive performance by the Arab world's most famous singer Kadim Al Sahir.
---
Speaking immediately after the event, Mahdi Amjad, CEO and executive chairman of Omniyat, said: "This was a very special evening to look back at Omniyat's past, celebrate its present and look forward to the next decade. Our partnership with Dorchester Collection is a key moment in the company's history, and it was a pleasure to reveal the project's design to all our investors and partners on this special evening."
Christopher Cowdray, chief executive officer at Dorchester Collection, said: "Marking our first venture in the Middle East at this spectacular gala dinner was a pivotal occasion for us. Our strategic partnership with pioneering and visionary Omniyat will bring together an architectural landmark with Dorchester Collection's legendary hospitality. It will define the future of luxury in this vibrant region."
Established in 2005, Omniyat has a strong track record in delivering high quality projects, with a development portfolio of over $6.2 billion.
---