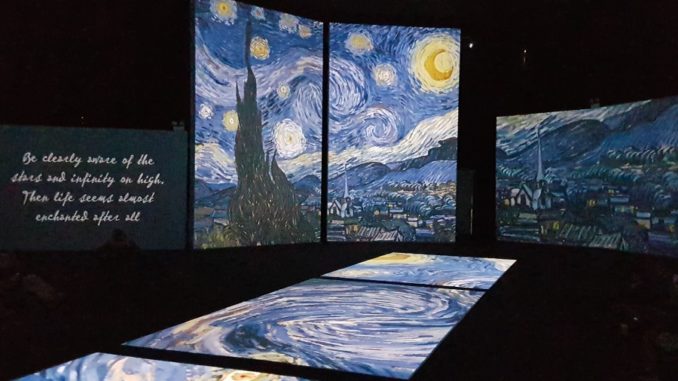 After hitting headlines in the capital, Van Gogh Alive makes its way to Dubai's creative hub, d3. Until April 23rd, visitors have the unique opportunity to experience Van Gogh's artistry and truly venture into his world. Grande Exhibitions and 6IX Degrees Entertainment present Van Gogh Alive – The Experience, a multi-sensory exhibition event to entertain the whole family – open from Sunday, 11th March.
Bedroom in Arles showcases a replica of Van Gogh's surroundings where much of his work was produced, and the city is invited into his space for an up close and personal look. Stretching the definition of an 'exhibition', it simulates senses through audio and visual technology.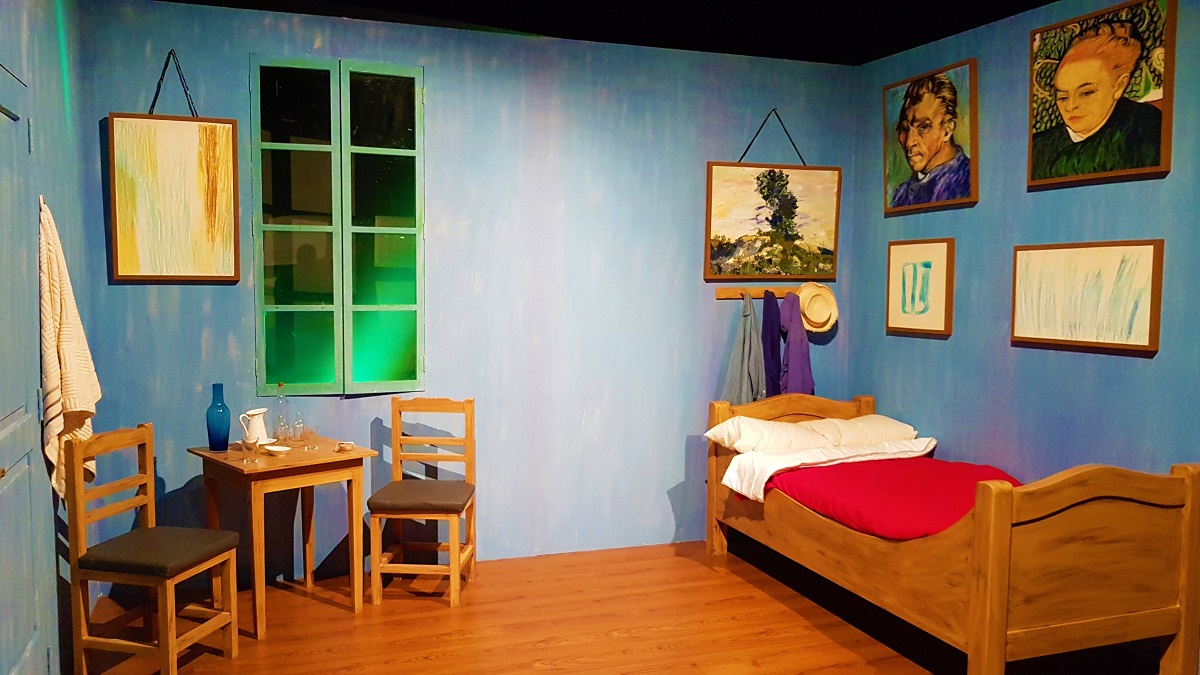 From start to finish, visitors are surrounded by a powerful and vibrant symphony of light, color and sound that compels them to leave the world behind and immerse themselves in what has been called an 'unforgettable' multi-sensory experience. Van Gogh's masterpieces come to life as visitors experience the sensation of walking right into his paintings – a feeling that is simultaneously enchanting, entertaining and educational.
Taking place in d3 from March 11th to April 23rd, the exhibition uses state-of-the-art SENSORY4™ multimedia technology to project enormous crystal-clear images. Set to an evocative classical score, a thrilling display of over 3,000 inspirational images transforms every surface – walls, columns, ceilings and even floors. At such a scale, the vibrant colors and vivid details of Van Gogh's work are truly breathtaking.
[ngg_images source="galleries" container_ids="59″ display_type="photocrati-nextgen_basic_slideshow" gallery_width="700″ gallery_height="467″ cycle_effect="fade" cycle_interval="3″ show_thumbnail_link="0″ thumbnail_link_text="[Show thumbnails]" slug="van-gogh" order_by="sortorder" order_direction="ASC" returns="included" maximum_entity_count="500″]
Adults and children alike will forge their own paths and find their own meaning as they wander through the galleries, exploring hidden nooks, viewing artworks from new angles and discovering unique perspectives. Visitors have the chance to examine Van Gogh's sources of inspiration via photographs and video displayed alongside his works. But for many, the greatest pleasure lies in simply standing still, indulging the senses as waves of sights and sounds, intense and beautiful, wash over them.
---
Prices: Adults: AED 70
Kids: AED 65 (up to 16 years old)
Student discount: AED 65 (any age, with student card)
Dubai, 11th March – 23rd April
Dubai Design District
Tickets purchased through Platinum List, Virgin Megastore, Dubai Calendar app
---
About 6IX Degrees Entertainment
6IX Degrees Entertainment is a Dubai-based entertainment and events production company which manages projects from conception to completion with expertise and creativity. For further information visit https://6ixd.com/
---
About Grande Exhibitions, creators of Van Gogh Alive – The Experience
Grande Exhibitions specializes in the creation, design, production and touring of large international traveling exhibition experiences and permanent exhibition projects which have broad cultural appeal.
The organization's traveling exhibitions are museum-quality experiences with an emphasis on being entertaining, educational, interactive and family-oriented.
Grande Exhibitions takes concepts or raw exhibits of timeless brand appeal, transforming them into visually and technically dynamic exhibits, ready to tour the globe. Their collection of exhibitions has been hosted in over 130 cities across six continents, to audiences in excess of 8 million people.
The organization is best known for creating their extensive suite of Leonardo da Vinci exhibitions with the assistance of Italian and French experts, Van Gogh Alive – The Experience, the most visited multimedia experience in the world, and Planet Shark: Predator or Prey, the world's only comprehensive out-of-water shark experience, among numerous other exhibitions.
Grande Exhibitions operates from its head office in Melbourne, Australia, with satellite offices in the United States and United Kingdom. Grande Exhibitions also owns and operates a permanent historical attraction in the heart of Rome, Italy.
---
What is SENSORY4™?
Developed by Grande Exhibitions, SENSORY4™ is a unique system that combines multi-channel motion graphics, cinema quality surround sound and up to forty high-definition projectors to provide one of the most exciting multi-screen environments in the world. The resulting experience is dynamic, informative and visually spectacular. Incredibly detailed images flow through the mass of projectors and merge with digital surround sound to saturate the space in a breathtaking immersive display.
---