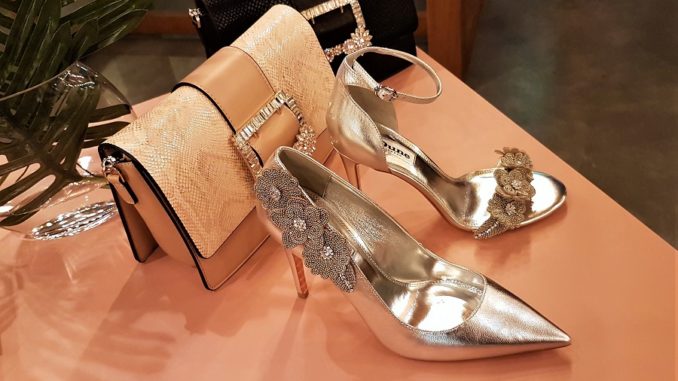 ---
Moving into the new season, the Dune Spring Summer 2018 collection introduces a burst of saturated colour to an otherwise neutral palette. Vivid, bold hues such as jade green, Mexican pink, cornflower blue and tangerine orange enhance classic mid-heels, high vamp courts, heeled ankle boots and kitten heel slingbacks.
Spring prints are bold and colourful, where rainbow watercolour stripes meet striking reptile textures for maximum graphic impact. Colour blocking proves a key treatment for dressy profiles, making use of this season's intense brights and sharp pastels.
Dune Spring Summer 2018 revives embellishment with the introduction of more detailed, playful trims and treatments. Adornments are carefully handcrafted in-house and are showcased across a number of bespoke capsule collections. Influenced by royal gardens, these stories bloom at the foot.
Collectively known as the Garden Party, delicate yet rich embellishment consisting of red rose buds, gilded flowers, semi-precious stones and enamel foliage decorate the vamp straps of sandals and cascade down courts.
---
Where toe vamp adornments once reigned, Dune Spring Summer 2018 explores new areas. Crystal encrusted ankle straps wind romantically at the ankle, whilst a range of floral sculptured heels showcase a new and refreshing take on occasion footwear.
Casual profiles continue to evolve for SS18, leather snaffle loafers are introduced in soft washed pastels whilst slip-on mule silhouettes are adorned with bespoke embellishment and embroidery. Trainers take on a more athletic aesthetic, with breathable knitted sock-style uppers and chunky stacked cup soles at the core of this trend.
Moving further into summer, casual sandals in earthy, natural tones emerge from an otherwise vivid colour palette. Artisanship is championed, where the presence of handwoven leather uppers, intricate stitch work and braided raffia soles encapsulate the spirit of a summer traveller.
Moving away from heavier profiles, the summer slider becomes much more refined with a focus on natural leathers, minimalist silhouettes and subtle stud detailing.
A high summer cruise collection of motif faux fur sliders, logo-emblazoned pool slides and embellished buckle footbed sandals bring a sense of fun to the range.
---
About Apparel Group LLC
Apparel Group is a global fashion and lifestyle retail conglomerate residing at the crossroads of the modern economy – Dubai, United Arab Emirates. Today, the Apparel Group caters to thousands of eager shoppers through its more than 1750+ stores and 75+ brands across all platforms employing 12,000 multicultural staff covering four continents.
Apparel group has carved its strong presence not only in the UAE, Kuwait, Bahrain, Oman, and Saudi Arabia but opened thriving gateways to market in India, South Africa, Poland, Singapore, Jordan, Indonesia, Thailand and Malaysia. Additionally, clear strategies are in place to enter emerging markets such as Hungary, Pakistan, Egypt and Philippines
Apparel Group Operates Brands from around the world, originating from USA, Canada, Europe, Australia, Asia and include leading names in Fashion, Footwear & Lifestyle such as Tommy Hilfiger, Juicy Couture, Nautica, Aldo, Nine West, Aeropostale to name a few and other key brands include Tim Hortons, Cold Stone Creamery, Inglot, Rituals etc..
The Apparel Group owes its amazing growth to the vision and guidance of its dynamic Chairman, Nilesh Ved, who has taken the company from strength to strength since its inception in the last two decades.
For more information, please visit www.appareluae.com
---