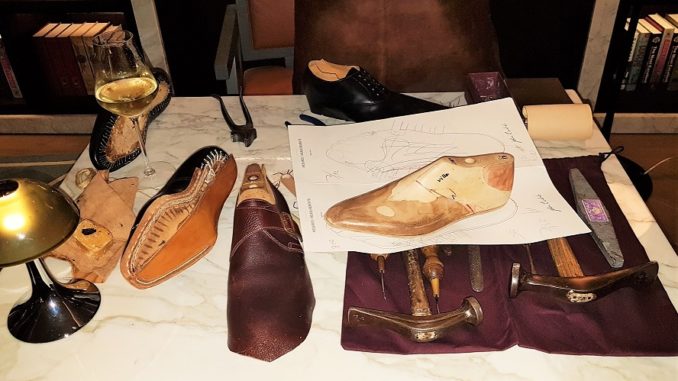 John Lobb Bootmaker has been in business for almost 150 years – and prides itself on upholding its exacting standards and unique levels of craftsmanship in the creation of hand-made shoes and boots for men.
John Lobb himself was born in 1829 in Cornwall, south-west England, but made his way to London as a young man as an apprentice bootmaker. Following a successful period in Australia making boots for the miners of the gold rush, he returned to London to set up his first shop on Regent Street in 1866.
John Lobb rapidly established itself as the premier boot and shoemaker of the day, providing a bespoke service to the aristocracy, as well as the political and business elite. In 1902 the company opened its first store in Paris, which echoed its London success and attracted a broad array of international clients. The company thrived in the post-war era with the launch of a number of classic models such as the William 'monk' shoe and the Lopez loafer.
---
In 1976, John Lobb was acquired by the Hermès Group. However, the London bespoke workshop, John Lobb Ltd, remained in the hands of the family, and continues to operate independently from its premises at 9 St James's Street. The Paris bespoke atelier, the By Request service and ready-to-wear collection, as well as all the other John Lobb boutiques, are all part of the Hermès-owned company.
Shortly after acquiring the company, Hermès recognised the demand for a ready-to-wear collection of men's shoes, as Lobbs were only available to bespoke customers, limiting access to a privileged few. In 1982 the debut ready-to-wear collection was launched, with the first store showcasing the RTW line opening in Paris in 1990.
In 1994, John Lobb opened its Northampton workshop, where today, the ready-to-wear line is designed and made by hand, a London boutique followed on Jermyn Street. Over the last decade, the company has expanded its retail presence across the globe with stores in major cities in the US, Europe, the Middle East and Asia.
The ultimate Lobb bespoke service is still available from the Paris atelier, now based on 32 rue de Mogador. Meanwhile the ready-to-wear collection retains the core bespoke qualities of John Lobb in its 190-step manufacturing process for each pair of shoes. The collection includes all the iconic classics, as well as fresh seasonal additions and new models, such as Grove, which reflect contemporary lifestyles and international audiences.
All its shoes retain the timeless traditions of John Lobb: exceptional quality, fine craftsmanship, comfort, durability and elegance.
---