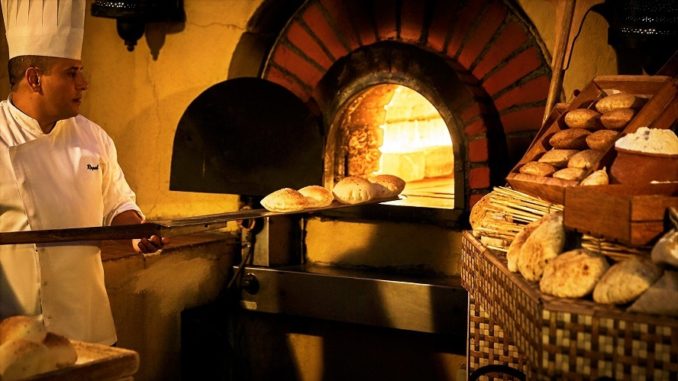 All Ramadan enthusiasts are invited to celebrate Ramadan at Bab Al Shams Desert Resort & Spa, in Al Hadheerah outdoor desert restaurant, transformed into a luxurious fully air-conditioned tent to explore a '1001 Arabian Nights' authentic Iftar experience, with a lavish buffet and a special live program.
---
Considered one of Dubai's authentic landmarks, award-winning Al Hadheerah desert restaurant has become a dining destination of its own, recommended by Dubai residents to guests and visitors, offering a true taste of Arabia with its exclusive location in the golden desert of Dubai.
With the transformation of Al Hadheerah restaurant into a Ramadan tent during the holy month, this authentic experience promises a majestic Arabian journey to its visitors, offering a one-of-a-kind Ramadan celebration, whether with its extensive culinary feast featuring more than 9 live cooking stations or with its perfect live program in a fully air-conditioned tent, marking the true hospitality of the traditional Arab culture.
This exquisite Iftar buffet at Al Hadheerah Ramadan tent, created by the talented culinary team, presents mouthwatering delicacies from famous Middle Eastern and international cuisines. These feature Emirati, Egyptian, Syrian and Lebanese culinary creations together with Moroccan, Omani and Iranian savory selections as well as special dishes from India and Turkey.
---
Celebrate Ramadan at Bab Al Shams Desert Resort & Spa and experience a lavish buffet offering nine interactive cooking stations including Arabic BBQ grill, 'ouzi makmour' together with 'shawerma' and Arabic bread-baking stations. Vegetarian guests are welcome to taste selected traditional and well-known dishes including Egyptian 'koshary', 'falafel' and 'Foul mudames, Lebanese 'cheese and zaatar manakeesh' and Turkish 'mixed dulma' together with a wide variety of Arabic salads that satisfy every taste.
To continue this culinary feast at Al Hadheerah Ramadan tent, foodies with demanding taste will enjoy lovingly made dessert buffet offering Arabic and international desserts journey carefully prepared by the talented international pastry team. This will also enjoy perfect live tunes of the Oud player as well as the famous camel and horse heritage caravan live show, while exploring the shisha flavors in the special Ramadan shisha menu.
To capture the perfect heritage photograph this Ramadan, guests are invited to pose for the camera and take a picture, while holding a real falcon on their arms or riding a camel – both available for all guests of Al Hadheerah Ramadan tent after Iftar.
Celebrate Ramadan at Bab Al Shams – Iftar and Dinner Buffet

Venue
Al Hadheerah Ramadan Tent
Available
Daily throughout the month of Ramadan
Timing
Sunset till 11:30 pm
Price (inclusive 5% VAT)
AED 265 per person – from Sunday to Wednesday
AED 295 per person – from Thursday to Saturday
50% discount for children aged 5 up to 12 years old
Complimentary for children below 5 years old


(including food, Ramadan juices, soft drinks, still water and Arabic coffee)

Other
Shisha available for guests aged 21+ years
Groups
10 guests and above, available at special price
Reservations
Advance bookings required
T. +971 4 809 6194
E. BAS.Restaurants@meydanhotels.com
W https://babalshams.com/ramadan
---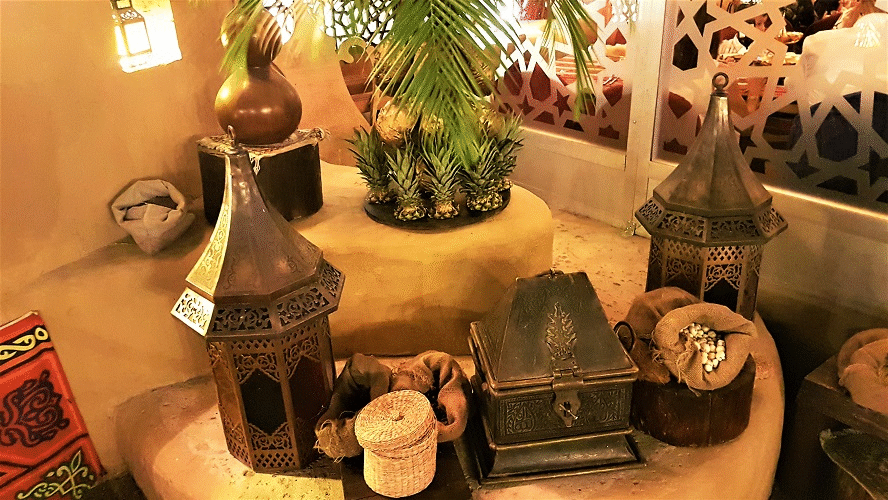 An indulgent Sohour experience also awaits guests with a generous à la carte menu offering a variety of inviting Arabic mezzehs, dishes and delicacies to enjoy at Al Sarab Rooftop Lounge. This two-story rooftop lounge with an authentic Arabic atmosphere overlooking the majestic Dubai desert, presents to all shisha fans a wide variety of premium and mixed flavoured shishas at until the early hours of the next day under the clear skies of Dubai.
Celebrate Ramadan at Bab Al Shams – Sohour

Venue
Al Sarab Rooftop Lounge
Available
Daily à la carte Sohour menu throughout the month of Ramadan
Timing
8:00 pm till 1:00 am
Other
Shisha available for guests aged 21+ years
Groups
Special menu available at special price
Reservations
No bookings required, first-come, first-served basis
For more information
T. +971 4 809 6194
E. BAS.Restaurants@meydanhotels.com
Bab Al Shams Desert Resort & Spa awaits all guests with its exclusive Ramadan experiences, marking an unforgettable evening to enjoy among family and friends.
---
For more information or media inquiries, please contact:
Nermin Abushnaf | Public Relations Manager | Meydan Hotels & Hospitality
D. +971 4 381 3242 | M. +971 56 545 8764
E. Nermin.Abushnaf@meydanhotels.com
www.themeydanhotel.com | www.meydan.ae
---
About Bab Al Shams Desert Resort & Spa
Located 45-minute drive from the city of Dubai and from Dubai International Airport, the 5-star desert luxury 'Bab Al Shams Desert Resort & Spa', suited in the heart of Dubai desert, is the perfect destination for families, couples or simply desert lovers. Overlooking the natural desert, this award-winning resort offers 115 rooms and suites range from 47 m² to 68.4 m² with authentic Arabic design and modern touches.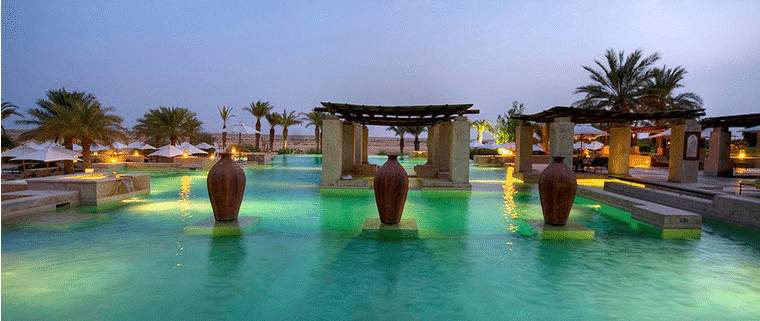 A wide selection of restaurant and lounges complete the guest dining experience throughout the stay, from 'Al Hadheerah Desert' restaurant with live entertainment, Indian restaurant 'Masala', traditional Italian cuisine at 'La Dune', an all-day dining international restaurant 'Al Forsan to 'Al Sarab' Rooftop Lounge, 'Ya Hala' Lobby Lounge together with 'Al Shurouq' Rooftop Terrace and the Pool Bar.
An extensive leisure and outdoor activities await the guests including two outdoor temperature-controlled swimming pools, open 4×4 desert drive, desert fat biking, archery, camel riding, falconry together with various sports games, from volleyball and croquet to table tennis and boules. With 4 treatment rooms and an indoor and outdoor relaxation areas, the award-winning 'satori' spa offers an urban oasis for spa goers to indulge and re-energize. Children between the age of 5 years – 12 years, will be entertained with fun activities with three different programs in the indoor "Aladdin's Kids Club'.
Bab Al Shams Desert Resort & Spa is a member of the Global Hotel Alliance and its Discovery loyalty program.
For more information, please visit www.babalshams.com | #DreamBabAlShams
---
About Global Hotel Alliance
Global Hotel Alliance (GHA) is the world's largest alliance of independent hotel brands, bringing together more than 35 brands with over 500 hotels in 78 countries. GHA uses a shared technology platform to drive incremental revenues and create cost savings for its member brands. GHA's award-winning loyalty programme, DISCOVERY, provides 12 million members exclusive opportunities to immerse themselves in local culture wherever they travel. For more information, visit www.discoveryloyalty.com
---