---
Pavilion USA 2020 Expo Dubai revealed
While the official opening of the U.S. pavilion at Expo 2020 Dubai -the next World's Fair- on October 20, 2020 feels far away, Pavilion USA 2020 Expo Dubai, the partnership responsible for the United States' National Pavilion, has been making important headway in the design and planning of the landmark building destined to represent more than 325 million Americans.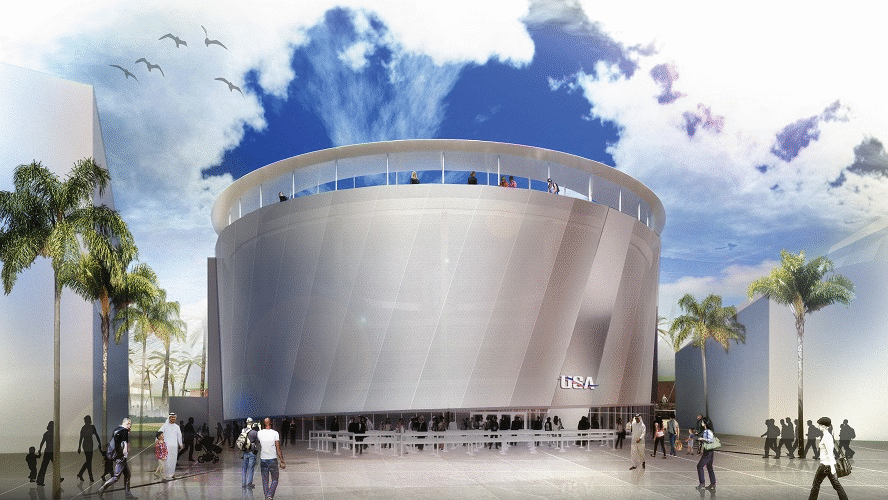 The initial plans for the building and its experiences were released at a ceremony in Dubai on November 28th. The event featured the unveiling of an architectural model of the U.S. pavilion, designed by world-renowned American architect Curtis W. Fentress, FAIA, RIBA; and a tour of the American experiences currently being designed by Detroit-based design firm George P. Johnson Experiential Marketing.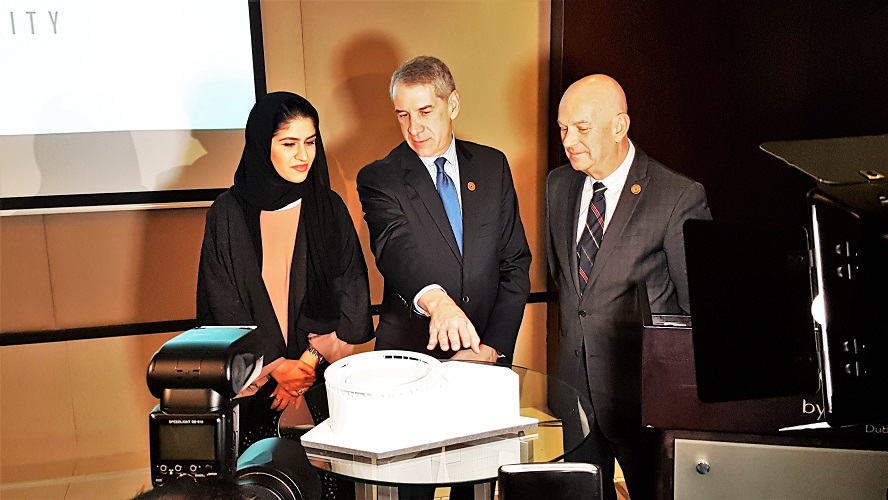 View also
---
Partnerships and Sponsors
The event also included a signing ceremony of a Memorandum of Understanding (MOU), the first-of-its kind agreement between Pavilion USA 2020, AmCham Dubai, AmCham Abu Dhabi, and the US-UAE Business Council to promote the shared goal of engaging the private sector in a history-making U.S. pavilion.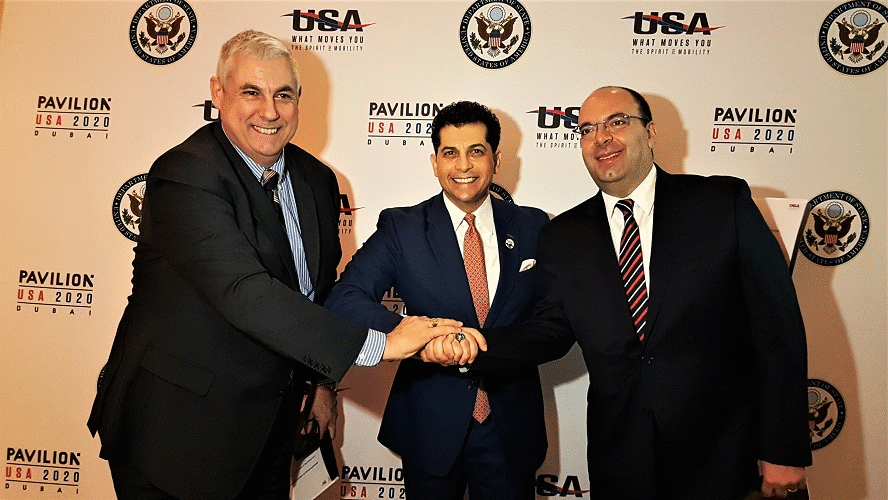 Pavilion USA 2020 Expo Dubai leadership along with Krista Pilot, Vice President of Corporate Affairs for Asia, Middle East & North Africa from PepsiCo also announced that the 120-year-old New York-based company, known globally for its food and beverage products, will be a lead sponsor and Official Beverage partner of Pavilion USA 2020 Expo Dubai.
At the conclusion of the event, Pavilion USA 2020 Expo Dubai announced its official partnership with California-based Virgin Hyperloop One, which will premiere its Hyperloop ride experience at the U.S. pavilion. This first experience reveal marks the beginning of a multi-year global engagement campaign that will spotlight the innovations showcased at the U.S. pavilion in preparation for its opening in October 2020.
---
About Pavilion USA 2020 Expo Dubai
Pavilion USA 2020 is a consortium of leading U.S. architecture, experiential, communications, public diplomacy, academic, financial management, and fundraising firms who have come together to fund, design, build, operate, and decommission the U.S. pavilion at Expo 2020 Dubai. It was selected by the U.S. Department of State to implement the U.S. pavilion at Expo 2020 Dubai following a competitive nationwide request for proposal process. This multi-year public-private partnership will bring the U.S. pavilion to life, a huge undertaking that will require the collaboration of its creative, commercial, and cultural partners from across all the United States and its territories.
In a joint statement released by The Honorable Frederick M. Bush, Chairman and Gregory D. Houston, CEO of Pavilion USA 2020, the leadership said: "This Pavilion provides a unique platform for our nation to come together to showcase the very best of our cultural and commercial achievements. We are committed to the prudent and responsible management of a pavilion that engages the world with the incredible diversity and innovations that define the United States of America."
Representing the U.S. Government at the launch event were U.S. Consul General Dubai Philip Frayne and Director of the U.S. Department of State's Expo Unit James Core: "We are excited by Pavilion USA 2020's release of the first designs of the U.S. pavilion and the announcement of their first sponsors. This is an important step in the United States' journey to Expo 2020 Dubai. We encourage other companies, cultural and philanthropic organizations, and citizens to learn more about opportunities to get involved."
During the launch event, Colorado-based Curtis W. Fentress of Fentress Architects shared his insight in the Pavilion's design: "Today we're looking at an Expo that is related to mobility, movement, travel, sustainability – things that are very important to the world today. We have designed this building to be circular in form with slants fashioned to project a sensation of movement, making the viewer feel like the building itself is in motion. And then, once you enter the building, it opens up to what the United States stands for: We are an open, accessible country where you can live to create ideas. It showcases all the things we are doing in America: developing technology and concepts that are going to move us forward in the future. Designing this pavilion is a tremendous responsibility -one we take very seriously- as we will be showcasing America and American ideas to over 25 million people expected to visit the Expo."
David Rich, the pavilion's Executive Producer and Paul Hemsworth, the pavilion's Creative Director, both of Michigan-based experiential design firm George P. Johnson Experience Marketing (GPJ) walked attendees through the immersive cutting-edge interactive experiences that the U.S. pavilion will feature. Rich offered that "our agency is excited to be bringing to life the stories of how the most inspiring American mobility innovations are improving the lives of individuals all over the world. Along with our sister agencies Spinifex and G7, we'll be immersing visitors in an unparalleled experience of 'mobility innovation,' from physical to digital to socio-economic, as brought to fruition by our richly diverse population of thinkers, creators, and doers who are remaking American business while helping to fuel progress around the globe. With this Expo returning to the theme of innovation, and with the effort the Expo 2020 Dubai organization and the broader region is putting toward making this a global marketplace, this is an unprecedented opportunity for American companies to share their innovations with the world. We're honored to serve them, our country and the Expo in helping to make it happen."
To showcase the United States' broad cultural and social diversity, Global Ties U.S., the consortium's public diplomacy partner, highlighted cultural programming and engagement opportunities to be featured at the pavilion. "We are thrilled to be part of U.S. pavilion at the Expo in Dubai. Along with our partners at the University of Southern California's Center on Public Diplomacy and our citizen diplomacy network across the United States, we look forward to showcasing the remarkable cultural diversity of America's states and territories through dance, music, theatre, literature, art, food, sport, and other touch points in American culture — and to ensuring that every visitor to the Expo has a rich experience with American life" mentioned President & CEO of Global Ties U.S., Katherine Brown, Ph.D.
In a joint statement, Anne Jaffrey, President of AmCham Dubai; Sharief Fahmy, Chairman of the AmCham Abu Dhabi, and Danny E. Sebright, President of the US-UAE Business Council said: "Today's MOU serves as the platform from which our members can come together in support of the U.S. pavilion at Expo 2020 Dubai. We are pleased to work closely to ensure the bilateral business communities between our two nations are fully engaged in this important effort. As a commercial priority of the U.S. and the U.A.E., there are few opportunities more deserving of our full support."
The launch event also marks the official kick-off of Pavilion USA 2020's international outreach campaign to engage citizens of the U.S. and the world in an awareness journey aligned to the themes of the Pavilion. Concurrent with the launch, the Pavilion's website went live at www.pavilion2020.org – providing the seeds for an engagement hub that will continue to grow as the Pavilion comes to life.
The global engagement effort will be led by Colorado-based communications firm Human Design, in collaboration with the consortium's communications partners throughout the U.S. and U.A.E. The "What Moves You" campaign will feature regular pavilion experience reveals, along with engagement and promotion activities with U.S. companies, culture, and technologies. The pavilion's curation team will also focus on engaging young people through targeted educational programming, primarily in STEM and STEAM initiatives. Partners such as NYU-Abu Dhabi's Innovation Lab, TechStars Dubai, and the Buzz Aldrin Space Institute will ensure thoughtful, well-crafted content.
The U.S. Department of State is responsible for U.S. participation in international exhibitions sanctioned by the Bureau of International Expositions (BIE). The Department's Expo Unit in the Office of the Under Secretary for Public Diplomacy and Public Affairs manages U.S. engagement with the BIE, organizes U.S. participation at overseas Expos (also known as World's Fairs), and mobilizes international support for U.S. candidacies to host Expos.
For further details about Pavilion USA 2020 Expo Dubai, visit www.pavilion2020.org. For more information about the U.S. participation in World's Fairs, including Expo 2020 Dubai, visit www.state.gov/r/expo/. For information on Expo 2020 Dubai visit expo2020dubai.ae.
---