---
Citizen MyBetterStartsNow campaign launched
Through Citizen MyBetterStartsNow (#MyBetterStartsNow) campaign unveiled on December 12, 2018 at Five Hotel, Palm Jumeirah, the Japanese watch manufacturer aims to seek out, celebrate and reward inspiring heroes of the UAE.
Citizen MyBetterStartsNow reflects the brand's "Driven" philosophy, which underpins its ambitious aspirations while reflecting its position as a global pioneer in watch technology.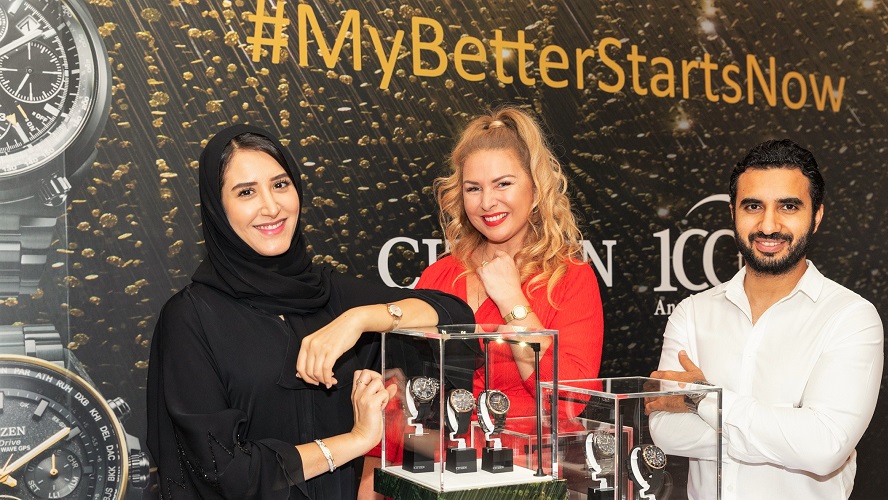 It also marks Citizen's 100th anniversary year providing a significant opportunity to communicate to both existing and new customers the innovative drive and passion which has ensured the longevity of the brand.
---
Citizen MyBetterStartsNow donates 25000 dirhams
Citizen has collaborated with four UAE-based influencers who themselves have been and continue to be "Driven" through their committed endeavours to self-improve, and subsequently have a positive influence on the people and communities around them.
Their role in the campaign involves telling their own inspirational stories through social media channels, thereby encouraging other members of the population to come forward with theirs.
The most deserving and altruistic backstory will win 25,000 dirhams as a donation to their cause. Individuals can nominate themselves, a friend or family member through a dedicated website www.citizen-me.com/mybetterstartsnow or through the influencers' own social channels where they are invited to share their story.
---
Four Citizen MyBetterStartsNow ambassadors
The four Citizen MyBetterStartsNow influencers represent different cultures and backgrounds, but all share a similar tale of self-improvement and life-changing aspiration that has resulted in positive change. The influencers are:
Reem Al Marzouqi
In 2013, Reem, as a young Emirati student of engineering at United Arab Emirates University, Al Ain, developed the first car designed to be driven without using hands or arms – making her the first Emirati to receive a US patent.
Reem is motivated to finding solutions that will help society, particularly People of Determination, and she is also an inspiration to young women in the region wanting to make their mark in what is typically regarded as a male-dominated industry. Instagram: @reem1almarzouqi
---
Diaa Allam
Diaa Allam is an Egyptian calligraphy artist based in Dubai who gave up his profession in urban planning and architecture to pursue his passion. Diaa uses the experience drawn from his former career to create highly original pieces of art which pay homage to the Arabic culture.
In his own words, he is focused on "turning the immortality of the Arabic language into a thing of infinite beauty" Diaa has held many exhibitions across the region and has a growing fan-base, his work being highly distinctive, combining graphic design elements with contemporary art in an inimitable style. Instagram: @diaadxb | @na7tdesigns/
---
Katie Pattison-Hart
Katie is a British national based in Dubai. In 2011, in the thick of her corporate career, Katie joined the RowForFreedom team to raise awareness for a cause that had opened her eyes to a new reality – ending Human Trafficking.
In 2012 Katie, along with four other women, rowed across the world's second largest ocean, the Atlantic, covering 5,000 kms from the Canary Islands to Barbados, earning substantial donations for her cause, and breaking a world record as a team member of the very first all-female crew to sail this ocean. Instagram: @designed2succed | www.katieph.com
---
Simerjeet Singh
Simerjeet Singh is an Indian motivational speaker and performance coach who began his career in the hospitality industry but left it to become a Certified NLP Practitioner and Personal Performance Coach, drawing on his career learnings to inspire and motivate others.
He now devotes his life to empowering people from organizations across the globe, encouraging individuals from all walks of life to pursue their passion.
In his own words, "I believe that success is finding our purpose, and then designing a life that embraces it." Twitter: @simerjeetsingh
---
Kato Keiji, General Manager of Citizen explains: Citizen MyBetterStartsNow campaign is all about striving to make improvements, to challenge the status quo and be driven to make tomorrow better than today.

It is this sense of continued improvement which epitomizes our brand, and which has enabled us to be trail-blazers in areas such as light and satellite technology, which we pioneered, and which we continue to evolve.

We are very excited to be working with four outstanding individuals who we feel brilliantly demonstrate our philosophy; they have each shown amazing determination, empathy and grit, along with a drive to change the world and make it better.

We believe that each of them will be very successful in championing our initiative and recruiting a plethora of unsung heroes out there in the UAE who share a similar drive and attitude.
---
Reem Al Marzouqi adds: I am really excited to have been chosen to assist Citizen with such a worthy initiative. I know from my own experience that positive publicity and recognition really supports the personal drive to succeed.

The Citizen MyBetterStartsNow campaign will allow all those people out there who are very determined to do good and make the world a better place, to attract attention, and that will definitely further their cause.

I am looking forward to playing such an intrinsic role in the campaign and getting the message out as far and wide as possible. I know that there are thousands of ordinary people doing extraordinary things every day and I want to hear about them and put them in the limelight.
---
The nomination process will be open until mid-March 2019, with Citizen's senior team judging the entrants and their personal stories.
The finalists will attend a special awards event where they will be recognized for their contributions and receive Citizen timepieces. The overall winner will receive 25,000 dirhams to support their special cause.
For further information, visit www.citizen-me.com/mybetterstartsnow | #MyBetterStartsNow
---