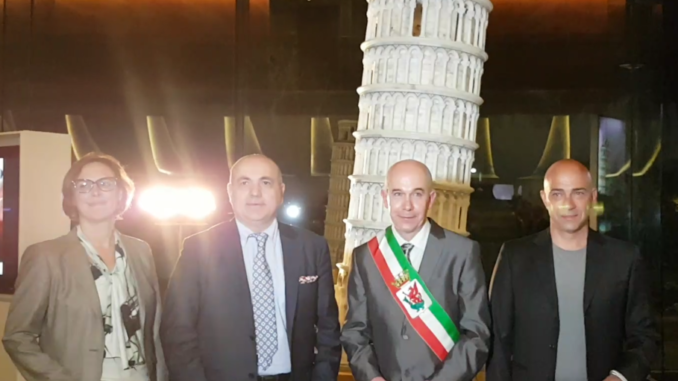 ---
After its major success in Tokyo, "The Leaning Tower of Pisa" has been unveiled during an official inauguration ceremony on March 20th, 2017 at Meydan Hotel in the United Arab Emirates, with the support of Tuscany Tourism Board, the Chamber of Commerce of Pisa, the Municipality of Pisa and the Municipality of Volterra.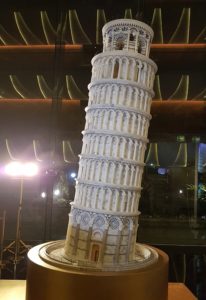 The exhibition of the Alabaster Tower, which is carefully reproduced from the original drawings of the famous Tower of Pisa, is realized by the alabaster masters of Arte in Bottega di Volterra's Association.
The Foundation Cassa di Risparmio di Volterra, the Province of Pisa, Cassa di Risparmio di Volterra and the Municipality of Volterra, as well as the Opera della Primaziale Pisana; the work owner, have taken part in the realization of the Tower. The copy of the famous bell tower of the Cathedral of Pisa, is now exhibited at the luxurious Meydan Hotel in Dubai, with a panoramic view of the prestigious Meydan Racecourse.
Tuscany Region in Italy and the UAE have already forged a relationship that has strengthened since 2015 thanks to "Toscana Endurance Lifestyle", an international event of sport and networking organized by sistemaeventi.it in Pisa at the San Rossore Racecourse presenting two top level endurance rides in 2017; 14-16 July and 4-6 August.
The inauguration ceremony was attended by Alberto Peruzzini, Director of Tuscany Tourism Board, Riccardo Fedeli, Vice Mayor of Volterra and Gianluca Laliscia, Chairman of Toscana Endurance Lifestyle. It also included a seminar and presentation of Tuscany region dedicated to UAE Tour Operators and B2B companies, organized in collaboration with the Italian Chamber of Commerce in Dubai.
Further information may be found through the official channel dedicated to the event, both in English and Italian: www.pisaleaningtower.com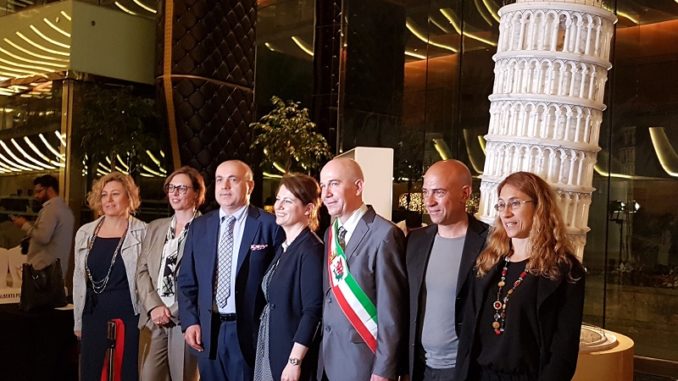 ---